State-owned Indian Oil Corp (IOC) today said it has signed an MoU with Korea Gas Corp (Kogas) to jointly explore for oil and gas opportunities including LNG.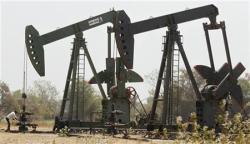 "IOC and Kogas signed an MoU for joint participation in exploration and production of gas and oil at the global level and developing natural gas infrastructure projects and LNG sourcing," IOC said at the Petrotech 2012 conference in New Delhi.
IOC Chairman R S Butola met Kogas delegation that included executive vice president (LNG) Hyun Kun Shin.
Butola emphasised the need to carry the MoU forward and make progress on areas identified for co-operation in a time bound manner.
Kogas is the national gas company of Korea and the world's largest single importer of LNG clocking about 33 million tonnes in 2011. Kogas is the developer, owner and operator of three large-scale LNG receiving terminals as well as an extensive nationwide pipeline network in Korea.
It has equity investments in LNG liquefaction projects and 20 overseas E&P projects and has lined up LNG sourcing contracts from several countries.
IOC is scouting for LNG for its upcoming Ennore import terminal in Tamil Nadu.