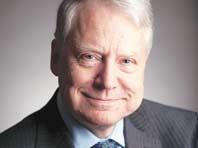 Paul Coby, director of information technology at John Lewis, was one of the early members of British Airway's, IT team that saw its captive unit in India grow.

He believes the outsourcing model of moving people or the entire IT system to a third-party vendor is no more valid and vendors need to be partners with the customer.

In a chat with Shivani Shinde, he talks about the changing nature of outsouring, how technology is no more a capex and other issues.

Edited excerpts:

How has the outsourcing model changed over the last few years?

Outsourcing is an overused term.

By outsourcing, I or John Lewis do not believe in moving all of our IT or a large part of our technology to a third-party vendor.

Technology is central to businesses today.

I do believe in working with third party vendors, but as a partner integral to our business.

We work with Zensar Technologies for application support. Cogni-zant is our partner for testing and has created a centre of excellence.

We are also working with Deloitte and Prof-essional Access for creating a standard website for all our businesses.

From an IT vendor, what I am looking for is ability to develop capability and expand.

In 2012, we would increase our technology investment by 25 per cent and want to reach out to people online and in retail outlets.

But your erstwhile firm, BA, started the outsourcing industry by creating the first captive unit in India. Is that model not working well?

The models that we saw emerging in the 1990s, evolved as a reaction to technology.

Many felt technology was rather expensive and was not the core.

And players like IBM and others were considered
to be the ones who would take away the load. Technology became commoditised.
So, firms started to outsource. But look at technology now.
Who could have thought about Facebook or Twitter? For a retailer, knowing the customer is very important; we need to constantly keep them involved.
Today, technology is core to the business.
Online business for us is 25 per cent of our sales, that is almost 650 million pounds.
This is growing at 25-30 per cent. We cannot think of growing this by keeping technology out of the boardroom.
So, you are saying it has to be about partnership?
Last week, we had a meeting with 25 of our top suppliers. We told them we were looking at cost saving in 2012.
But we also want them to tell us what are the technologies we need to adopt to run our business better.
They are better placed to tell us. This is a partnership model.
What is the focus for 2012?
Our online business is growing fast, it's 25 per cent now. We need to develop a multi-channel retail.
We have 34 major outlets (there are others as well), website, mobile application for transaction. We have presence on social media and Youtube.
We have seen 20 per cent of our online sales are being done through Tablets. But we now want to seamlessly integrate these.
We have introduced concepts like click-and-collect. This allows customers to buy online and pick it up from store, and people like it as delivery time is less.
We have introduced Wi-fi in our stores, this allows them to do comparison and reviews. But our aim is to make this experience seamless.
We have over 25 vendors and look to consolidate this to 15-20.
Image: Paul Coby