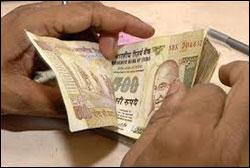 Country's fiscal deficit during the April-December period was RS 4.07 lakh crore, or 78.8 per cent of the budgeted full fiscal year 2012/13 target, government data showed on Thursday.
During the same period in the previous fiscal year, the deficit was 92.3 per cent of the budgetary target.
Net tax receipts for April-December stood at Rs 4.84 lakh crore while total expenditure was Rs 9.91 lakh crore.
In March 2012, the government had budgeted a fiscal deficit of Rs 5.14 lakh crore, or 5.1 per cent of the gross domestic product (GDP), for the current fiscal year that ends in March.
However, in October, strained finances forced New Delhi to revise the deficit target to 5.3 per cent.