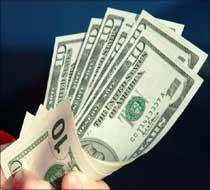 Investment by Indian companies abroad increased by 13.7 per cent to $1.88 billion in March, according to the Reserve Bank data.

In February, Indian companies had invested $1.66 billion overseas.

The last month saw 484 deals, including those by Videocon Oil Ventures, Videocon Industries, JSS Steel, House of Pearl Fashions, Glenmark Pharmaceuticals, Garware Offshores Services.

Videocon Oil Ventures and Videocon Industries invested $456.39 million and USD 397.02 million respectively in their wholly-owned subsidiaries in Cayman
Islands. Both the subsidiaries are engaged in the business of agriculture and mining.
Glenmark Pharmaceuticals invested a total of $81.53 million in six separate tranches in its various joint ventures and wholly-owned units in Kenya, Mexico, Peru, Russia, Switzerland and Venezuela.
JSW Steel made an investment of $49.91 million its in joint venture in the US which is into manufacturing business.
Besides, House of Pearl Fashions with an investment of $47 million in its wholly-owned unit in Mauritius and Garware Offshores Services with $34 million investment in its wholly-owned company in the Netherlands were among other major investors.