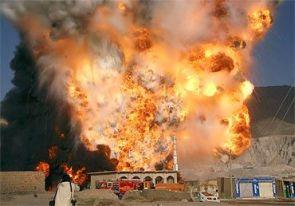 At least six suspected militants were killed on Wednesday in a United States drone strike in Pakistan's lawless North Waziristan tribal region, amid reports that Taliban's No 2 commander in the country, Waliur Rehman, was among those dead.
The Central Investigation Agency-operated spy plane targeted a house in Chashma Pul area of Miranshah, the main town of North Waziristan Agency, a stronghold of the Taliban and Al Qaeda-linked militants on the Afghan border, early on Wednesday morning. This was the first missile strike in Pakistan since the landmark May 11 general election and the announcement of a new policy for the use of drones by President Barack Obama last week.
At least six suspected militants were killed instantly and two others injured, news channels quoted officials as saying. Local residents said several drones were seen hovering over the area after the attack.
The injured were taken to a nearby hospital, where officials described their condition as critical.
The foreign office reacted strongly to the attack and a brief statement issued by spokesman Aizaz Ahmad Chaudhry said the Pakistan government had "serious concerns" over the US drone attack in North Waziristan. "The government of Pakistan has consistently maintained that the drone strikes are counter-productive, entail loss of innocent civilian lives, have human rights and humanitarian implications and violate the principles of national sovereignty, territorial integrity and international law," the statement said.
A media report claimed Rehman, the deputy chief of the banned Tehrik-e-Taliban Pakistan, was killed in the drone strike but this could not be independently confirmed.
Some television news channels reported that the Taliban had denied the report about Rehman's death.
Pakistan's general election was won by the Pakistan Muslim League-N and Prime Minister-elect Nawaz Sharif, set to assume office in June, has said Washington must take Islamabad's concerns about drone strikes seriously.