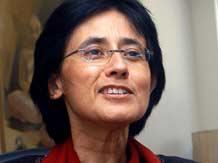 For Vinita Bali, who steered Britannia Industries to a sturdy platform in India, taking the company on to a global stage would be an onerous task, given that the company is present in only select foreign markets.

Britannia, which has a decent presence in West Asia, exports to select pockets in North America, North Africa, South Asia, Southeast Asia and Australia.

Industry analysts are wondering what routes the firm would take to go global.

Arvind Singhal, managing director, management consulting firm Technopak, said, "I think Vinita Bali is best suited for this responsibility of trying to take Britannia on to a global stage.

The India business is slowing and there is tremendous scope for the company to expand overseas.

There are enough examples of Indian FMCG (fast-moving consumer goods) companies going global, including that of Tata Global Beverages, which went abroad, acquired global brands and managed them effectively.

"Maybe, Britannia is looking at such a move." However, many industry observers are pessimistic about such a step by the company. According to them, there are two ways to read the Wadia Group's move to shift Vinita Bali to a global role.

"One is the Wadia Group may be looking at Vinita Bali to play a more active role in managing the diversified Wadia Group, which straddles textiles, airlines, FMCG, agriculture, real estate, etc.

"The second is Vinita Bali may have opted to move out and, therefore, this is a move to rope in a successor.

"Taking Britannia onto a global stage is far-fetched and is unlikely to happen any time soon," they told Business Standard. Earlier, in a discussion with Business Standard, Bali had said though Britannia exported its products to about 30 countries, it had only touched the tip of the ice berg.

According to her, the key challenge lay in building a brand in a foreign market that had numerous choices; the challenge lay in establishing the brand's relevance and specialty.

"In our experience, consumers around the world buy brands, not companies or the way they are structured.

"To compete effectively, quality and its consistent delivery is a given.

"Being global is the way companies look at the world and their businesses.

"Consumers look for brands that satisfy their needs and are different, better and special," she had said.

As of March-end, the company's global operations, exports, contributed five to eight per cent to Britannia's revenues of Rs 6,200 crore (Rs 62 billion).

In March 2007, Bali had led Britannia Industries to sign a joint venture with the diversified Oman-based Khimji Ramdas Group.

As part of the agreement, Britannia and its associates acquired a significant stake in Dubai-based Strategic Food International and Oman-based Al Sallan Food Industries.

The two companies are key regional players in the biscuits, wafers and cookies segment in Gulf Cooperation Council markets and export their products across the world.

While Strategic Food International is one of the largest biscuit and wafer manufacturing companies in West Asia, Al Sallan Food Industries is one of the foremost cookies, rolls and chocolate production companies.

Harish Bijoor, owner of leading brand and management advisory Harish Bijoor Consults, says, "The change at Britannia bodes well for the biscuit giant at large. I believe Vinita Bali and Varun Berry are two very savvy business folks, at the helm of Britannia Industries.

"Vinita has proven fast growth is possible in the category.

"She has fought hard the old warhorse of Parle at one end and new studs in the stable such as Sunfeast of ITC Foods and Kraft at the other.

"She now leaves for Varun a turf she consolidated upon and moves on to handle a role that is small, but global.

"Here, I do belie size does not matter, intent does.

"The very fact that Vinita heads this means the intent is solid.

"Let's remember Vinita is a business-hardened tough cookie herself. The going will not be easy, but I believe Vinita will be the best person to handle this." He added for Britannia, the areas of focus on the global map might be the dairy and the snack food segments.

"Britannia has already explored dairy in the past.

"I will not be too surprised if it would remain an arena of focus.

"In addition, the snack food segment, despite being a cluttered space, is still open globally.

"There is ample fatigue, with formats already in the market.

"I believe Britannia has a whole wide world open to explore, provided it does its work with method in the madness," he said.
Image: Vinita Bali | Photograph, courtesy: Business Standard