Rising bilateral trade with China, growing consumer wealth and high confidence level among its traders will push India to the top league of trading nations beginning 2013 and it is set to retain the fastest growth rate until 2020, says HSBC.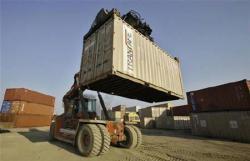 "The growing Indo-China bilateral trade is set to increase significantly and the country will be the fastest expanding market for Chinese products, with import growth averaging 20 per cent annually during 2013-15 and 17 percent during 2016-20, while exports clipping at 23 per cent during 2013-15 and 19 percent during 2016-20," says the HSBC trade forecast released on Tuesday.

India tops the tables for all 23 markets surveyed as either their fastest import or export growth partner out to 2020, it said.

The country also tops the HSBC trade confidence index apart from having the most promising global outlook with 61 per cent of traders expecting to see growth.

"With a score of 135, India is the most confident country. Optimism has improved in the past six months with 71 percent of importers and exporters surveyed expecting trade volume to increase and another 24 per cent anticipating business to remain at current levels," said the report that covered 5,800 exporters, importers and traders over the past six months in 23 markets.

This upside to trade will be backed by the growing consumer wealth that will push the country to be the fastest growing trade market - import or export or both - among the 23 largest trading markets, according to the forecast.

The optimism comes from a dual speed trade rebound as South-South corridors become more established, driving growth to 2015 before being rejoined by the developed world in the later part of the decade, notes the report.

As per the report, India and China will be joined by emerging
trading nations like Vietnam, Indonesia, Egypt, Turkey, Mexico and Poland to record significant trade growth in the next three years.
Brazil's fastest growing trade partners are India, Vietnam and China and Mexico's imports from India and China will grow 13.9 percent and 13.4 percent respectively between 2016 and 2020, the HSBC report said.
Indonesian exports, led by commodities, to Asia (ex-Japan) are expected to grow at around 10 percent annually during 2021-30, with shipments to India and China leading the growth during 2013-15.
Singapore's exports to Asia (ex-Japan) are forecast to rise by 7 per cent on average during 2021-30, again led by China, India and Vietnam.
Bangladesh is forecast to develop its role linking the new emerging Asia, driven by trade growth with India throughout the period. Its trade is expected to jump 19 percent during 2013-15 and 14 percent during 2016-20, the report said.
Another major trading power will be Malaysia, which is set to see 9 per cent spike in its exports to Latin America during 2016-20, with its exports to Brazil alone growing at 14 percent annually during this period.
Vietnamese exports are expected to clip at double-digits annually throughout the forecast period of 2012-30.
The report said China will overtake the US as Vietnam's largest export partner by 2030 but the US, followed by Japan and Korea.
Australia's dependence on Asian markets for commodities shipments will continue during this period, recording an annual growth of (ex-Japan) 6 percent during 2013-15.
Hong Kong's exports are forecast to more than double from 4.8 per cent in 2012 to 11.4 percent annually through 2013-15.
Although China will remain Hong Kong's most important trading partner, other developing East Asian nations will become increasingly important, with exports to Vietnam growing 8 percent in the decade to 2030.