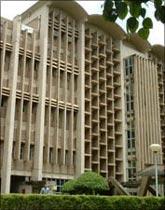 Avenues 2009, the annual business festival of the IIT Bombay School of Management, will be held on October 31 and November 1.
The theme for Avenues 2009 -- which will see management vents, competitions, workshops and seminars -- is 'People, Planet and Profit', a concept where social, economic and environmental considerations collectively appraise corporate performance.
Avenues 2009 will have a talk series, Alankar, which will feature Rediff.com founder and chairman Ajit Balakrishnan, actor and activist Rahul Bose, former Sebi chairman M Damodaran, founder of Genesis Film Productions Prahlad Kakkar, and others.
The sessions will be conducted over two days at the F.C Kohli auditorium at IIT Bombay. On the spot registrations are allowed.
The events lined up for Avenues'09, including HarIT -- the Green IT event -- and Ashwamedh -- The Championship Event, will focus on the green theme and sustainability of the people-profit-planet trilogy.
Navonmesh is the international entrepreneurship convention, which highlights the hurdles faced by start-ups with regard to sustainable business ideas.
Samvaad, the flagship consulting event of Avenues 2009, is a case study competition. This will be judged by Ness Wadia, noted businessman and the owner of King's XI Punjab which goes beyond business to provide a strategic initiative to reach out to the masses.
Other events to watch out for include Mudra, the flagship finance event partnered by NCDEX, where finalists selected after rigorous initial rounds from all across India would be trained by the NCDEX officials to perform trading on their platforms for the finals being held at the IIT Bombay, Powai campus.
Avenues 2009 also presents a host of online games and on-the spot events- for those who have missed the bus on the other events.
After being successful at Stanford, MIT and Avenues 08, Imagine it! Project is back at Avenues 2009. The mantra here is to promote creative thinking.
In addition to the 'on the spot' rounds to be held on the day of the festival, we are also opening up a wild-card entry and the 'Imagine it! Documentary film series.
The event will be conducted at the Somwell near the IRCC auditorium on October 31.
Another event to watch out for is Pragyaan, the business quiz designed to test the finest business brains in the country. The challenge would kickstart with the online quizzes. A series of online quizzes will continue the drill at the campus culminating into a grand finale at the P C Saxena Auditorium in IIT Bombay on October 31 at 12:30 pm.
Avenues will also present Laughter Nite with Bhagwant Mann on Saturday. There will also be a host of on-the spot informal events like Google Lounge, Formula 1 Bidding and BrandEX to give you a chance to win many attractive goodies.