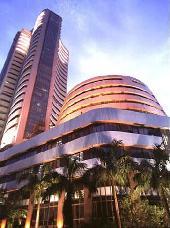 Markets ended over 1% lower on Tuesday weighed down by rate sensitive shares after the Reserve Bank of India at its second quarter monetary policy review kept key policy rates unchanged. However, the central bank reduced the cash reserve ratio by 25 bps.

The Sensex slipped 205 points to end at 18,431 and the 50-share Nifty ended weaker by 68 points to close below crucial psychological level of 5,600 at 5,598 levels.

Showing concerns over hardening inflation, the Reserve Bank today left the key interest rate unchanged but reduced cash reserve ratio by 0.25% to infuse additional liquidity that will inject Rs 17,500 crore into the financial system.

Accordingly, the CRR or the portion of deposits banks have to park with the RBI now stands at 4.25% while the repo rate, at which RBI lends to the system, has been retained at 8%.

The reverse repo, at which RBI absorbs excess liquidity through borrowings from banks, remains at 7%.

The new rates will be effective November 3, RBI Governor D Subbarao said while unveiling the mid-year monetary policy review.

Asian shares were subdued on Tuesday after a powerful hurricane curtailed activity in US markets overnight, while the dollar held gains against the yen ahead of a widely expected policy easing by the Bank of Japan later in the session.

Hang Seng slipped 82 points to 21,428, Nikkei slipped 87 points to close at 8,842 and the Shanghai Closed flat at 2,062 levels.

The European markets were trading marginally higher keeping within their recent range in a likely quiet session with Wall Street still closed, as investors digested mixed company results. CAC, DAX and FTSE were up 0.6-0.8% each.

Back home, banking and rate sensitive stocks were amongst the worst hit in trades today after the central bank's decision to hold the repo and reverse repo rates attracted the selling presdsure in these pockets. State Bank of India was the top Sensex loser, the stock has slipped nearly 5% to Rs 2,068. ICICI Bank, HDFC Bank, Canara Bank Bank of Baroda, Punjab National Bank, Bank of India and Kotak Mahindra Bank were also closed weaker by 2-4% each.

Other heavyweight stocks such as Larsen & Toubro, Tata Motors, Hero MotoCorp, Bajaj Auto, Maruti Suzuki, Mahindra & Mahindra, NTPC, Reliance Industries and Tata Power were also among the losers, down 1-2.7%
each.
On the other hand, Maruti Suzuki was the top Sensex gainer. The stocks ended higher by 1.6% at Rs 1,386.
It bounced back almost 6% from day's low after reporting better than expected net profit of Rs 227 crore for the second quarter ended September 2012.
Analyst on an average had expected profit of Rs 175 crore from car maker.
The company had profit of Rs 240 crore in previous year quarter.
Dr Reddy's Labs, Infosys, HUL, Wipro, BHEL and Bharti Airtel were also among the notable gainers.
Selling pressure was visible across the board.
The BSE bankex was the top loser, the index closed weaker by 2.5% or 329 points to end at 12,851.
Realty, consumer durables, capital goods, PSU, metal, auto, oil & gas, power and FMCG indices also ended weaker by 0.2-2.3% each. While, IT and teck indices ended marginally higher.
Among the individual stocks, Colgate-Palmolive (India) ended higher by 3% at Rs 1,269, also its record high, after reporting a better-than-expected 37% year-on-year (yoy) growth in net profit at Rs 145 crore in September 2012 quarter on back of higher volumes.
Analyst on an average had expected profit of Rs 122 crore from personal products maker.
De Nora India was locked in 20% upper circuit of Rs 195 after reporting almost eight-fold jump in net profit at Rs 6.81 crore in September 2012 quarter on back of higher operational income.
The company engaged in electrolytic products had profit of Rs 89 lakh in previous year quarter.
Heritage Foods (India) surged 13% to Rs 395 after reporting six-fold jump in its consolidated net profit at Rs 14.48 crore for the second quarter ended September 2012.
The company engaged in packaged foods business had profit of Rs 2.55 crore in previous year quarter.
KEC International has tanked 9% to Rs 68 after reporting 22% year-on-year (yoy) fall in its consolidated net profit at Rs 16.48 crore in September 2012 quarter due to higher raw material and construction cost. Analyst on an average expected profit of Rs 32 crore.
The broader markets also closed on a weak note. The BSE mid-cap and small-cap indices slipped 1% each.
The overall breadth was negative as 1,800 stocks declined while 1000 advanced.