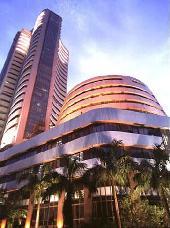 Markets were volatile ahead of the results season and ended in the negative zone after changing direction several times.

The Sensex ended at 19,667 down 76 points as FMCG shares witnessed profit booking. The Nifty ended down 30 points at 5,971.

The broader markets fell in line with the benchmark indices as investors booked profits in large caps and bought select mid-cap and small-cap shares.

BSE mid-cap was down 0.5% at 7301. Small-cap index was  down half a per cent at 7,616.

"We believe that the undertone in market remains bullish; traders with a bullish view may hold long positions and add further long position in case Nifty Futures closes above 6060; traders with a bearish should initiates short position only on a decisive close below 5950, existing short positions should be closed if Nifty Futures close above our suggested level of 6060," said Shshank Mehta, Derivatives Strategist, Shah Investor's Home Ltd.

In Asia, markets went up as earnings season got off to a positive start in the US, with US aluminum major Alcoa Inc.'s Q4 December 2012 sales surpassing market expectations.

Meanwhile, Global ratings agency Fitch has warned that China's "investment-driven growth model" faces increasingly serious constraints due to heavy debt financing by local governments.

Nikkei added 71 points to 10,578.Hang Seng, Straits Times and Taiwan Weighted also moved up 0.5% each.

Domestic car sales fell by 12.51% to 141,083 units in December last year compared to 161,247 units in the same month in 2011.

According to the data released by the Society of Indian Automobile Manufacturers today, motorcycle sales last month went up by 4.83% to 844,113 units from 805,198 units in December, 2011.

BSE auto index jumped 0.7% at 11,731.

Realty
index gained on renewed buying interest.
Healthcare, Oil & gas, PSU and bankex also went up around half a per cent each.
FMCG index shed, dragging the benchmark index with it.
ITC weighed on the Sensex and slipped 2% at Rs 279. HUL was down 1% at Rs 520.
Buying was witnessed in index heavy-weights such as Reliance Industries along with Tata Motors after Credit Suisse and CLSA upgraded their ratings on the car-maker.
Reliance ended unchanged at Rs 852.
Tata Motors was the biggest gainer among Sensex stocks- up 4% at Rs 327. Together they contributed 30 points to the Sensex's upmove.
Coal India was up 1% at Rs 364 on reports that the government has invited expression of interest to undertake restructuring.
Bharti Airtel was up 0.8% at Rs 333 Local brokerage L-K-P has a 'buy' call on the stock with a price target of Rs 380.
"We have turned positive on the telecom sector, within which we believe that Bharti will be the key beneficiary of the regulatory softening and benign competitive environment," the brokerage said in a note.
Among other shares, Bhushan Steel dipped over 7% to Rs 448, after the company has announced a rights issue in the ratio of 1:15 at price of Rs 335 per share.
The New Delhi-based steel maker will be issuing one equity share at a price of Rs 335 for every 15 equity shares held by its existing shareholders through the issue.
BSE market breadth was positive. Out of 3,101 stocks traded, 1,395 shares advanced while 1,575 shares declined.