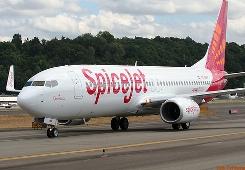 Low-cost carrier SpiceJet said on Tuesday  that more than 18.52 lakh (1.85 million) shares pledged by one of its promoters Kal Airways have been released.

In a disclosure to the Bombay Stock Exchange, Spicejet said that over 18.52 lakh equity shares of the company, pledged by Kal Airways have been released.

Kal Airways held 15.65 crore (156.5 million) or 32.32 per cent stake in SpiceJet as of September quarter.

SpiceJet operates over 300 daily flights.

Shares of the company ended at Rs 45.55, down 1.62 per cent on the BSE.

SpiceJet connects Tiruchirapalli with Chennai, Delhi, Mumbai:
According to another report, SpiceJet on Tuesday announced launch of its services to Tiruchirapalli in Tamil Nadu from New Delhi and Mumbai.
The airline would be starting its flight connecting Tiruchirapalli with Delhi and Mumbai via Chennai from January 15.
"With the launch of these flights, Tiruchirapalli now would be connected to national network," SpiceJet chief executive officer Neil Mills said.
The airline would deploy its newly-acquired Bombardier Q400 aircraft for enhancing connectivity to Tier II and Tier III cities.
The Bombardier Q400 NextGen turboprop aircraft can accommodate 78 passengers.
SpiceJet flies to 40 domestic and six international destinations.