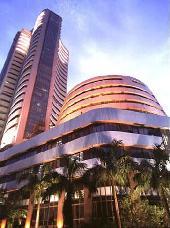 Markets pared most of the day's gains as investors booked profits at higher levels ahead of the Christmas holiday tomorrow and expiry of December derivative contracts on Thursday.

The 30-share Sensex ended at 19,255 up 13 points and the 50-share Nifty ended at 5,856 up 8 points.

World stock, commodity and currency markets were steady on Monday, as the holiday lull set in across markets and offset tensions over the US budget dispute.

Asian markets ended mixed. MSCI's broadest index of Asia-Pacific shares outside Japan inched up 0.1 percent in thin trading after falling to a near two-week low on Friday.

With only UK, French, Dutch and Spanish stock markets open in Europe and trading shortened ahead of Christmas celebrations, the FTSEurofirst300 opened almost flat at 1138.35 points to leave the MSCI index of global stocks virtually unchanged at 339.87.

Back home, BSE TECk, IT, Healthcare, Auto and Realty indices surged by almost 1% each. However, BSE Oil & Gas index declined by nearly 1%.

IT shares like Wipro [ Get Quote ], Infosys [ Get Quote ] and TCS [ Get Quote ] spurted between 0.4-2% on the back of weak rupee which helps boosts revenue as major portion of their revenues come from exports to the US.

From the Auto space, Tata Motors [ Get Quote ] was the top Sensex gainer, up 3%. Bajaj Auto [ Get Quote ] gained nearly 1%.

Sun Pharma [ Get Quote ] surged over 2% on completion of acquisition of DUSA Pharmaceuticals, Inc.U.S.A by its US subsidiary.

Other notable gainer includes Tata Power [ Get Quote ], HUL, Bharti Airtel [ Get Quote ], Coal India and GAIL.

Oil and gas shares were among the top Sensex losers, index heavyweight RIL [ Get Quote ] declined marginally. ONGC [ Get Quote ] declined by almost 2%.

JSPL, Maruti Suzuki, Sterlite, ICICI Bank [ Get Quote ] and Hindalco [ Get Quote ] are other notable losers.

The broader markets outperformed the benchmark indices with the BSE Mid-cap up 0.32% and the BSE Small-cap up 0.36%.

The market breadth on the BSE ended almost neutral.

SMART MOVERS

Kingfisher Airlines locked in upper circuit of 5% at Rs 15.97, bouncing back over 9% from intra-day low on reports that the company has submitted a revival plan to the aviation regulator, the Director General of Civil Aviation.

FDC soared 11% to Rs 98 on back of heavy volumes on report that the promoters of pharmaceutical company plan to sell majority of their stake in the company.

Lanco Infratech [ Get Quote ] rallied 7% to Rs 13.46 after the company said that Supreme Court of Western Australia has allowed the Griffin Coal Mining Company Pty Limited, a subsidiary of company to enter into revised Coal Supply Agreement with Griffin Power entities which is in process of being acquired by Japanese consortium of Sumitomo Corp and Kansai Electric Power Co.

Glenmark Pharmaceuticals [ Get Quote ] ended higher by 4% after the company said it has signed development agreement with Forest Laboratories for worldwide collaboration on Novel Agents to treat chronic inflammatory conditions.