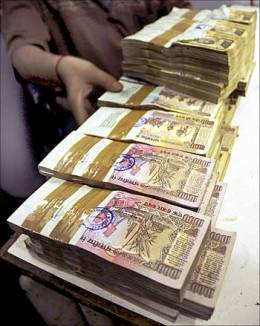 The rupee was pulled off its highs and ended little changed on Tuesday, tracking Asian currencies as the budget impasse in Washington tempered investor appetite for riskier assets, while greenback demand from private oil firms also hurt.

The Reserve Bank of India's decision to cut an overnight interest rate late on Monday, further unwinding extraordinary measures taken to defend the rupee, had little direct impact, traders said.

Traders expect the rupee to remain in a range for the time being given the continued global market uncertainty.

"I think the weakness in the rupee should continue as lower rates are not good for a depreciating currency," said Ashtosh Raina, head of foreign exchange trading at HDFC Bank.

"The gains seen in early trade were just on the back of the stock market rise."

The partially convertible rupee closed at 61.7925/8025 per dollar compared with 61.79/80 on Monday.

The unit moved in a wide band of 61.6150 to 61.91 during the session.

Globally, the dollar edged higher against the Japanese yen after President Barack Obama said he would accept a short-term increase in the nation's borrowing authority
to avoid default, although analysts said the US currency would remain under broad selling pressure while a budget standoff continued.
At home, traders said dollar inflows to the tune of $200 million were spotted from a corporate during the session, but were all absorbed by the market with large demand being seen from private oil companies.
Meanwhile, Indian shares rose to their highest close in nearly two weeks, led by gains in lenders after the central bank cut an overnight interest rate.
The bank share index, however, ended up just about 0.6 per cent, trimming most of its 3.7 per cent rise.
"I don't think yesterday's unwinding would mean a change in the trend for the rupee.
"It will remain rangebound between 60.80 and 62.30 during the week with state oil demand remaining off market which limits any significant downside," said Hari Chandramgethen, head of foreign exchange trading at South Indian Bank.
In the offshore non-deliverable forwards, the one-month contract was at 62.43, while the three-month was at 63.41.
In the currency futures market, the most-traded near-month dollar/rupee contracts on the National Stock Exchange, the MCX-SX and the United Stock Exchange all closed at around 62.12 with a total traded volume of $1.93 billion.