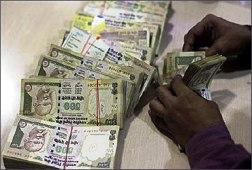 Falling for the sixth day in a row, the rupee on Friday ended 4 paise lower at fresh six-month low of 55.63 against dollar on sustained demand of US currency from exporters and some banks, amid capital outflows in stocks.

On a weekly basis, the rupee fell by 1.36 per cent or 75 paise as dollar demand outweighed supply and stocks fell.

On Friday, rupee commenced slightly lower at 55.61 a dollar from overnight close of 55.59 at the Interbank Foreign Exchange market.

Thereafter, it dropped to a low of 55.76 on heavy dollar demand from importers.

Later, it found support and bounced back to a high of 55.44, before again sliding back to settle at 55.63, a fall of four paise.

It has now lost 86 paise or 1.57 per cent in six-session losing run against the US dollar.

On Thursday, it had touched over eight-month low of 56.01 but recouped some losses to close in the 55-level zone.

The dollar index was down by 0.27 per cent against
a basket of six major currencies as Japanese yen started to firm up after its recent fall.
Pramit Brahmbhatt, CEO, Alpari Financial Services (India) said: "Today dollar demand from gold and oil importers weakened rupee, but the fall was capped as the dollar index later traded weak, helping rupee.
The support for USDINR (Spot) pair is at 55.38.
The trading range for the USD/INR pair is expected to be within 55.35 to 55.85."
Premium for forward dollar remained weak on continued receipts by exporters.
Benchmark six-month forward dollar premium payable in October moved down to 146-1/2-148 paise from Thursday's close of 149-151 paise. Far-forward contracts maturing in April dropped to 305-307 paise from 310-312 paise.
The RBI fixed the reference rate for the dollar at 55.6075 and for the euro at 71.9415. The rupee declined further against pound sterling to 84.10 from previous close of 83.80 and also dipped against the Japanese yen to 54.90 per 100 yen from 54.68.
It, however, fell back to 72.14 per euro from last close of 71.65.