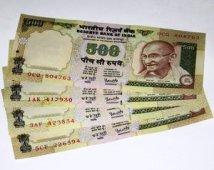 Falling for the third day in a row, the rupee on Friday dropped 45 paise to end at 55.42 despite Reserve Bank of India intervention, as demand for the US dollar rose following signs of global uncertainties deepening.
"The rupee depreciated to around 55.60 level due to dollar demand.
"Also, strengthening of dollar against all currencies due to global risk aversion along with a range bound equity market dragged the rupee. . .there was intervention by the RBI which helped the currency," Hemal Doshi, Currency Strategist, Geojit Comtrade said.
At the Interbank Foreign Exchange (Forex) market, the domestic unit resumed sharply lower at 55.45 a dollar from last close of 54.97.
Soon after it slipped to 55.64, after which RBI intervened to help prop the rupee, traders said.
The currency managed to gain some ground and concluded at 55.42, a fall of 0.82 per cent.
In the last three days, the rupee has tumbled by 104 paise or 1.91 per cent.
The rupee, which generally tracks the FII fund flows into Indian stocks, appeared unaffected by the Rs 571.77 crore (Rs 5.71 billion)
fund inflows into shares today, said forex dealers.
The dollar gained against major currencies, including the euro.
The 17-nation currency was last trading to a five-week low against the dollar a day after the European Central Bank cut interest rates amid concerns recent steps will be ineffective to contain the deepening debt crisis.
In Tokyo, International Monetary Fund chief Christine Lagarde today cautioned that the global economy was slowing and said the situation could get worse because Europe was not doing enough to fix the debt crisis.
N S Venkatesh, Head of Treasury, IDBI Bank said, "The rupee's weakening was linked to euro and buying of dollars from large corporate and oil importers."
The dollar index, a gauge of six major currencies, was up by 0.05 per cent while the New York crude oil was trading above $85 a barrel in European market on Friday.
Meanwhile, the Indian stock market benchmark Sensex on Friday closed down by 17.55 points or 0.10 per cent.