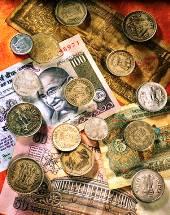 The rupee on Tuesday gained by a massive 105 paise to close at a nearly six-week high of 54.38 against the US currency on increased capital inflows and offloading of dollars by banks and exporters.

"The rupee made sharp gains tracking positive sentiment in the share market and the market has found hopes in Prime Minister Manmohan Singh, who is also Finance Minister, pushing reforms," Pramit Brahmbhatt, CEO, Alpari Financial Services (India) said.

At the Interbank Foreign Exchange (Forex) market, the rupee opened higher at 55.35 a dollar from yesterday's close of 55.43.

It immediately touched a low of 55.44 on some hesistancy in stock markets and dollar demand.

However, the tide turned with exporters selling dollars and a fresh dose of capital inflows into stocks.

FIIs pumped in nearly Rs 590 crore (Rs 5.9 billion) in the stock market, as per provisional data.

This helped rupee bounce back sharply to a high of 54.35.

The domestic currency closed at 54.38, up by 105 paise or 1.89 per cent, registering the fourth largest gain in absolute terms in the last decade.

"The rupee also appreciated due to improved sentiment domestically and FII auction supply that will come post allotment," said Moses Harding, Head - ALCO and Economic & Market Research, IndusInd Bank.

The government last week had increased foreign investor limits in government debt by $5 billion and the increased limits will be auctioned on Wednesday.

According to Hemal Doshi, Currency Strategist, Geojit Comtrade, the rupee has got support as sentiment improved in the market place on the back of expected policy action from the government soon.
Share your ideas on how the rupee can be saved. See what others have to say.