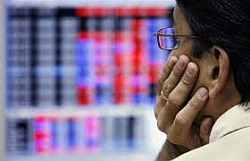 Markets ended a negative session of trade on a flat note, after an attempt to recover in late noon deals.

The Sensex, after touching a high of 17,425 briefly recovered to a high of 17,555. The index finally ended down 18 points at 17,521. Nifty ended ay 5317 -- down 10 points.

Markets would be looking at the corporate result next to decide direction. The result season kicks off with HDFC on July 11, 2012.

European shares declined as doubts of further monetary stimulus ahead of a key US jobs report pushed investors to book more profits on five straight weeks of gains.

The European Central Bank cut interest rates to a record low on Thursday to breathe life into a deteriorating euro zone economy. In Asia, markets slipped following ECB decision to cut rates.

Japan's Nikkei shed 0.6% to 3,478. Kospi and Jakarta dropped half a per cent each.

BSE metal index slipped 1% to 11,002. Metal shares declined, mirroring cues of the London Metal Exchange.

Jindal Steel & Power, the biggest loser today, declined 3% to Rs 455 on reports that the company has suspended operations at its iron ore mine at El Mutun in Bolivia.

Sterlite dropped 2% to Rs 108, followed by Hindalco and Tata Steel.

Realty index was the biggest loser and dropped 1.2% to 1,775. BSE power, IT and capital goods indices slipped around 1% each.

Meanwhile, FMCG shares rose on the back of news that monsoons had finally arrived in the state.

The southwest monsoon made a further advance on Thursday into
more parts of the country. The index advanced 0.7% at 4,910.
Larsen & Toubro slipped 1.5%, followed by Wipro, Infosys and GAIL. Tata Power and Maruti Suzuki shed 2% each.
On the other hand, ICICI Bank gained 1.5% to Rs 935, followed by HDFC.
ITC gained 1% at Rs 253. Mahindra & Mahindra was up 1.2% at Rs 731.
According to reports, M&M has entered the Kenyan market with its XUV500 and Scorpio.
Reliance has selected Technip as a technology supplier and engineering contractor to implement its Refinery Off-Gas Cracker project as part of the expansion project being executed at RIL's Jamnagar refinery and petrochemical complex in Gujarat.
Shares of Reliance were down half a per cent at Rs 734.
Shares of tyre makers extended recent gains on lower rubber and crude prices. Govind Rubber added 7%, JK Tyres advanced 1.5%, while Apollo Tyres, Dunlop and CEAT moved up around 1% each.
Shares of bicycle makers such has Atlas Cycles (Haryana) and Tube Investments of India were in focus in otherwise subdued market on hopes of higher demand in overseas market after the Europe has imposed an anti-dumping duty on China-made bicycles.
Shares of the companies jumped 4-9% each.
From individual stocks, Simbhaoli Sugars hit the upper circuit of 20% at Rs 37.25 after the company said it has received $9.8 million or Rs 55.15 crore as compensation in arbitration case for the loss of raw sugar.
The stock finally closed at Rs 35.70.
BSE market breadth was marginally negative. Out of 3,028 shares traded, 1,532 shares declined while 1,361 shares advanced.