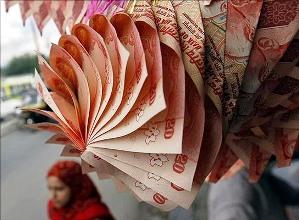 The rupee fell for a second session on Thursday on dollar demand from companies and importers and is now close to wiping out the gains it notched up since the Reserve Bank of India's unexpected measures to shore up the currency.

The RBI's move to raise an emergency funding rate and cap the amount that banks can borrow from it announced on Monday, followed by the government's relaxation of foreign investment limits in some sectors, have so far had only limited impact on the rupee.

The RBI rejected most bids at its open market sale of bonds on Thursday, likely to due high yields demanded by the market.

For now, the rupee is likely to remain dependant on global factors.

The dollar held on to broad gains on Thursday after Fed chairman Bernanke said the central bank still expected to start scaling back its bond purchase programme later this year, but left open the option of altering that plan.

"The rupee's outlook depends a lot on global factors at the moment as the uncertainty over QE3
is not over. The rise in oil prices remains a concern.
If dollar/rupee breaks below 58.80, it can gain to mid- to lower-58 levels," said Pramit Brahmbhatt, chief executive at Alpari Financial Services India.
The partially convertible rupee ended weaker at 59.67/68 per dollar, against its previous close of 59.34/35.
Corporate flows were cited by dealers with outflows of around $200 million from a mid-sized engineering company as well as dollar sales from a large petrochemical and a diversified engineering company supported the rupee.
Fears of intervention by the RBI, which has been seen stepping in to sell dollars in late trade in recent sessions, also helped keep a lid on the currency's losses.
In the offshore non-deliverable forwards, the one-month contract was at 60.08 while the three-month was at 60.90.
In the currency futures market, the most-traded near-month dollar/rupee contracts on the National Stock Exchange, the MCX-SX and the United Stock Exchange all closed around 59.71 with a total traded volume of $2.1 billion.