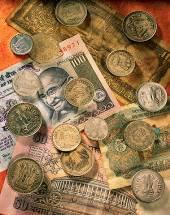 Erasing early gains, the rupee on Tuesday ended at 53.77 against the US dollar, still 14 paise higher than its last close, after the Reserve Bank cut lending rate and cash reserve ratio to perk up economic growth.

The 0.25 per cent cut in CRR will release Rs 18,000 crore (Rs 180 billion) into the system, RBI said.

Forex dealers said fresh selling of the American currency by exporters also helped the rupee sentiment.

The local unit commenced lower at 53.96 against the dollar from yesterday's close of 53.91 at the Interbank Foreign Exchange market.

After the RBI announced a cut in key policy rates, rupee bounced back to a high of 53.54 but soon lost the momentum and settled the day at 53.77, a rise of 14 paise, or 0.26 per cent, from its last close.

"The rupee today initially gained after the RBI policy announcement but in a knee-jerk
reaction to the central bank's comment on growth, failed to sustain it. It ended higher but fundamentals for the Indian currency continue to stay weak," said Moses Harding, Executive Vice-President (Forex) at IndusInd Bank.
He added that factors such as current account deficit and macro-economic dynamics continue to remain fragile, which has set the market into a consolidation mode and thus, rupee will move in a tight range of 53.35-54.10 in the near-term.
Foreign institutional investors pumped in nearly $167.35 million (Rs 899.83 crore) into the local stock markets on Tuesday, according to the BSE provisional data.
The RBI cut its short-term lending rate called repo after a gap of nine months by 0.25 per cent to 7.75 per cent and cash reserve ratio by similar margin to 4 per cent, releasing Rs 18,000 crore primary liquidity into the system.