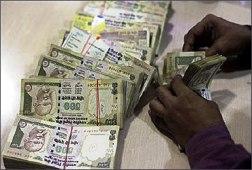 Snapping a two-day string of losses, the rupee today recovered to close 14 paise higher at 53.67 against dollar on Finance Minister P Chidambaram underlining the government's commitment to reforms and confidence about passage of key bills in the upcoming Budget session.

Consistent foreign funds inflow in stocks amid fresh dollar selling by exports and sustained weakness in dollar overseas also helped the rupee rise, forex dealers said.

At the Interbank Foreign Exchange market, the local unit commenced strong at 53.68 a dollar from previous close of 53.81 and touched a high of 53.58 on the back of initial rise in domestic stocks.

However, fall in equities after mid-session pulled the rupee down to a low of 53.90. It later recovered in line with stocks to settle at 53.67, a rise of 14 paise or 0.26 per cent.

The biggest threat to reforms in India is an unstable government at the Centre after 2014
elections, Chidambaram said on Wednesday reaffirming government's commitment to reforms and confidence about passage of pension and insurance bills in Parliament's Budget session beginning next month.
According to a note by Bank of America Merrill Lynch, who co-hosted an investor conference with DBS, Chidambaram, who is on the second leg of his east Asia tour wooing foreign investment, said the goods and service tax regime is a major reform and hoped that the legislation would be approved by Parliament in the winter session in December this year.
Foreign institutional investors bought shares worth $191.94 million on Tuesday.
The dollar index, a gauge of six major currencies, was down by 0.13 per cent as it lost ground against the euro following a better-than-expected survey of German sentiment.
"The rupee was seen gaining against the US dollar amid mild selling of dollars from the banks. . . Positive stock markets also lent support to rupee," said Abhishek Goenka, Founder and CEO, India Forex Advisors.