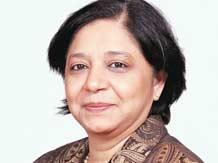 Earlier this month, with her accession as the new managing director of IBM India, Vanitha Narayanan joined the ranks of a handful of women chiefs in the country who head a technology company.

Besides Narayanan, the other members of the select group include Aruna Jayanthi, CEO, Capgemini India, and Neelam Dhawan, managing director, Hewlett-Packard India.

However, Narayanan has more to her credentials than being a woman.

She is an old-timer in IBM and has spent over 25 years managing clients globally.

Those who have worked with her say she is quite an aggressive person and has a well-rounded view of every segment of the business, be it marketing, sales, strategy or execution.

In her new role, Narayanan will be responsible for IBM's sales, marketing, services and global delivery operations in India and South Asia.

Narayanan's appointment comes at a time when the IT sector in the country is grappling with the after effects of the slowdown and is weighed by an uncertain economic environment and spending cuts.

India presents a unique situation to Narayanan as it had remained largely untouched during the 2007-08 global economic downturn.

The key challenge for Narayanan, therefore, will be to maintain IBM's growth in India and pitch for large clients.

IBM has so far remained the leader in the Indian domestic IT services market, ahead of Wipro, TCS and HCL.

It also enjoys considerable dominance in sectors such as telecom and banking. Besides, the company has a strong delivery presence in India with a headcount of over 100,000.

Narayanan who joined IBM in the US in 1987, holds a Masters degree in business administration in marketing from the University of Madras and in business administration in information systems from the University of Houston.

She leads several leadership development and diversity initiatives for ISA and is the executive sponsor for developing the women's leadership pipeline.

She is also a member of IBM's Integration and values team, which comprises senior global executives hand picked by the IBM chairman.

Prior to this, she has served as the vice-president of communications sector, Asia Pacific, and the global vice-president for IBM's telecom solutions offerings.

She takes over from Shanker Annaswamy who will continue to remain in IBM as a senior adviser to the corporation on India Enterprise.
Image: Vanitha Narayanan