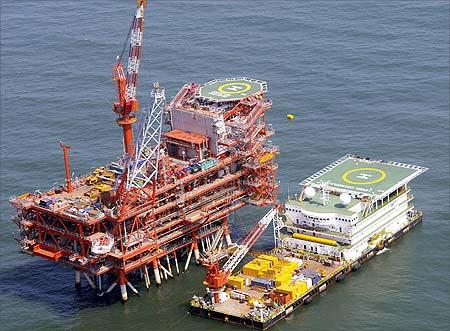 Fitch Ratings on Tuesday said a higher natural gas price will help improve Reliance Industries' profitability in 2014-15 fiscal and would lead it to invest more in raising production.
The flagging eastern offshore KG-D6 fields contributes about 40 per cent of the company's revenue from oil and gas exploration and production business in 2012-13 fiscal, Fitch Rating said affirming RIL's Long-Term Foreign Currency Issuer Default Rating at 'BBB-' and LT Local Currency IDR at 'BBB'.
The Outlook on the foreign currency issues default rating is stable while the same for local currency IDR is positive, Fitch Ratings said in a statement.
The government is considering raising natural gas prices to $8-8.5 per million British thermal unit from current $4.2.
"This re-pricing has met resistance from the user industries largely power and fertiliser as well as from the finance ministry. If upwardly revised, RIL's E&P revenues and profitability are expected to be significantly higher from FY15, when the price revision is due," the statement said.
"Also importantly, we believe higher gas prices will also likely lead to RIL (and its partner) BP investing for more production growth," it said.
Fitch Rating said the company has comfortable liquidity with a high cash balance of Rs 84,000 crore. "RIL also enjoys very good access to banks and capital markets, domestically as well as internationally."
"An upgrade of RIL's ratings, particularly the local currency IDR of 'BBB'/ Positive, which is not constrained by the country ceiling of India's 'BBB-' sovereign rating, is also predicated on RIL meaningfully improving the results of its domestic upstream operations," it said.
It said the recent gas discovery and potential gas price hikes will "lead to higher investments and production over time which will be positive for its credit profile."
"Fitch may consider an upgrade over the next 12-18 months based on developments and RIL's plans to expand production and reserves," the statement said.
Fitch said it may revise the Positive Outlook on its LC IDR to Stable if the company does not demonstrate strong prospects of materially improving its upstream profile in the next 12 months, or due to any large debt funded investments that will lead to its leverage being sustained over 1.5 times.
RIL's foreign currency IDR will be negatively affected if India's Country Ceiling is lowered from its current 'BBB-' level, it said.
The company continues to face declining production in its key block - Krishna Godavari - D6 (KG-D6). Gas production from the block declined to 26.1 million standard cubic meters per day (mmscmd) in FY13 (42.8 mmscmd in previous year) – given the geological challenges and high water and sand ingress.