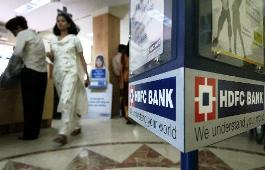 Private sector HDFC Bank on Friday reported a 30 per cent jump in net profit at Rs 1,859.07 crore for the October-December quarter of the current fiscal, mainly on account of increased loan book.
The bank had a net profit of Rs 1,429.66 crore in the December quarter of 2011-12 fiscal.
Total income of the bank increased to Rs 10,506.51 crore for the quarter ended December 31, 2012, from Rs 8,622.64 crore in the corresponding period a year ago.
Net interest income of the bank for the December quarter stood at Rs 3,798.9 crore, a growth of 21.9 per cent, mainly on account of increased loan book.
The loan book grew by 24.3 per cent and net interest margin, a measure of profitability, went up by 4.1 per cent.
Other income of the bank rose to Rs 1,798.9 crore during the quarter, from Rs 1,420 crore in the year ago period. This was mainly on account of income from fees and commission.
The net Non-Performing Assets (NPAs) as a percentage of total assets stood at 0.2 per cent.
Shares of HDFC Bank were trading at Rs 659.10, down 1.17 per cent from previous close on the BSE.