GSM operators could line up to bid for spectrum in the 800-MHz band coming up for re-auctioning, after there were no takers for it among CDMA operators in the recently concluded spectrum auction. GSM operators could buy the spectrum to launch 4G LTE (long-term evolution) and 3G services.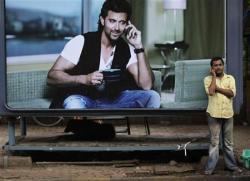 The operators are pushing the government to make one change in the re-auction rules: To extend the 900-MHz band, which will be auctioned after refarming, to include part of the 800-MHz band (called the extended GSM band).

That will ensure GSM operators can bid for an additional 10 MHz of spectrum (enough for two operators) for 3G and 4G services. Globally, operators say, this band is used by GSM operators.

A top department of telecom official said doing so was one of the options being considered. The move, if allowed, would help the government go a long way to meeting its collection target of Rs 40,000 crore (Rs 400 billion).

The CDMA band remained unsold and there were hardly any takers for the technology, a point made even by Communications Minister Kapil Sibal.

It would also make the battle in the 4G space fiercer. Reliance Industries, with pan-India 4G spectrum in the 2,300-MHz band, and Airtel (in some circles) will fight with other players
who, operators say, will control far more efficient spectrum needing less capital investment to roll out.
Experts say 800-MHz spectrum is four to five times more efficient than 2,300-MHz and will need far fewer towers.
In the 900-MHz band, the government has only 7.4-11 MHz available in 12 of 22 circles for refarming, which could restrict the entry of new operators.
But, with the extended GSM band, there would be the option of including at least two new operators. It would offer the existing 3G players a chance to secure spectrum in circles where they do not have 3G spectrum.
Other experts say with more devices available and more countries starting to run networks on 2,300 MHz, it is a more attractive spectrum for LTE. Countries which use the 800-MHz band for 3G and 4G services include Sri Lanka, Bangladesh, Europe, Brazil and Venezuela.
The Cellular Operators Association of India will represent to the DoT to reserve a part of 800-MHz spectrum. "There are at least two to three GSM operators that would bid for this valuable spectrum to offer 4G and 3G services. And, CDMA operators are in any case not using it," it says.
Vodafone India CEO Marten Pieters, in an interview with Bloomberg, on Monday said the company would be interested in bidding for 800-MHz spectrum that could be used to offer 4G services.