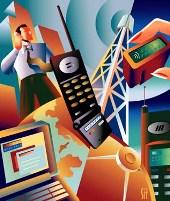 The CDMA majors, Reliance Communications and Tata Teleservices, who are among the latest entrants in the GSM mobile space, are adding more subscribers on their new GSM platform than in CDMA.
According to data from the Telecom Regulatory Authoroty of India, the total number of GSM subscribers of RCom at the end of September was 41.2 million, while the CDMA base was 55.28 million.
At the time it launched its GSM services in December 2008, RCom had a CDMA subscriber base of 48.69 million.
By September end, Tata Teleservices had a GSM subscriber base of 38.1 million, while its CDMA user base was 40.9 million.
While launching GSM services in June 2009, Tata had a CDMA base of about 38 million.
Both RCom and Tata had shifted
to GSM after the government's dual technology policy, which allowed CDMA players to offer mobile services in the other space.
GSM was also the more popular form of mobile communication, as CDMA mobile phones came blocked with the SIM of the service provider, while there was no such thing in GSM mobiles.
At the time of GSM launch, both had said they'd continue to focus on their CDMA mobile services.
Tata Teleservices also has a partnership with Japan's NTT Docomo for their GSM venture.