Concerned over possible fall in pulses production due to poor monsoon so far, the government is considering reintroducing its scheme to sell subsidised pulses through ration shops to give relief to common man from price rise.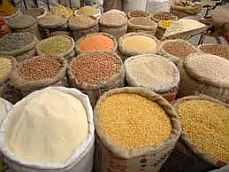 "What we are worried is about the pulses because pulses production will possibly come down. So, we are proposing some steps," Food Minister K V Thomas told reporters on the sidelines of a food conference in New Delhi.

The food ministry is discussing with the Agriculture Ministry about launching again the scheme of distribution of imported pulses through Public Distribution System (PDS) at subsidised rates.

The government had started this scheme in November 2008 to provide pulses at Rs 10 per kg subsidy through PDS to Above Poverty Line (APL) and Below Poverty Line (BPL) families.

"Till last June there was a pulses distribution scheme... But because of the offtake last year was so small by the state that the project has been stopped. So I discussed with the Agriculture Minister and we are thinking of restarting
that project with a better scheme," Thomas said.
He added that his ministry is also thinking to increase the subsidy of Rs 10 per kg for successful implementation of the scheme and will discuss this issue with the Finance and Agriculture ministries.
"We are preparing a paper for that and once it is approved by the Cabinet, we will have a new scheme for the distribution of pulses to the states at much more subsidised rates. So that will be able to control the prices," he added.
Pulses production has declined to 17.21 million tonnes in 2011-12 crop year (July-June) from record 18.24 million tonnes in the previous year.
The rains have been deficient by about 20 per cent so far this year affecting sowing of paddy, pulses, coarse cereals and oilseeds.
Pulses acreage fell by 37 per cent to 20.54 lakh hectares as of July 13 this year as compared to 32.83 lakh hectares in the year-ago period.
India, the world's largest pulses producer and consumer, imported 2.8 million tonnes of the commodity in 2011-12 fiscal as against 2. 69 million tonnes in 2010-11. The domestic demand is pegged at around 18.84 million tonnes.