The food ministry has supported the suggestion of Rangarajan panel to allow export of 2 million tons of wheat from government stocks immediately to ease pressure on storages, the Rajya Sabha was informed on Monday.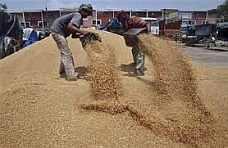 Replying to supplementaries during Question Hour, Food Minister K V Thomas said the Prime Minister had constituted an expert group headed by Prime Minister's Economic Advisory Council (PMEAC) Chairman C Rangarajan to suggest ways to ease pressure that record foodgrain production had created on storages.

The panel suggested immediate export of 2 million ton of wheat from government stocks, and additional supply of 13 million tons of the grain via
ration shops and in the open market.
"(The committee's) suggestions are being examined. Our department has fully supported the suggestions of C Rangarajan committee," he said.
At present, the government godowns are overflowing with granaries with 62.8 million tons of storage capacity unable to accommodate about 75 million tons of stocks.
For public distribution system (PDS), the requirement of foodgrain is 62-63 million tons, he said adding record production has created problem of plenty.
"While creation of adequate storage facilities was suggested for the long term, increase in quantum of food supply to BPL population and distribution of foodgrains to deserving population at very low cost or no cost was to be taken up in the short term," he said.