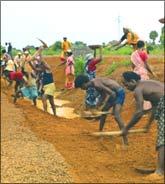 The United Progressive Alliance government's rural job guarantee scheme MGNREGA has drawn flak from industry chamber Federation of Indian Chambers of Commerce and Industry for having deprived businesses of sufficient labour.

Loss of confirmed orders, increase in wages and labour shortage were blamed on the scheme in a survey of 100 companies from diverse sectors.

The industry has called for the inclusion of industrial labour under the Mahatma Gandhi National Rural Employment Guarantee Act in areas with heavy industrial activity.

The demand assumes significance in the wake of agriculture minister Sharad Pawar's recent statement in Pune the scheme would be used to provide farm labour.

Responses to the survey, titled 'Labour Shortage for Industry', by Ficci said many companies faced losses due to labour shortage.

Nearly two thirds of participating firms said potential losses due to labour shortage caused by MGNREGA were to the extent of 10
per cent of their demand.
As much as 82 per cent of the participants said the scheme had caused a rise in wages to the tune of 10 per cent.
A key finding was the scheme's impact was not uniform; it was rather lumpy across states and industries.
The participating industries said the problem could be solved if Mahatma Gandhi National Rural Employment Guarantee Act was implemented only during the non-peak agriculture season.
They advocated free movement of workers across states.
State governments must not make it mandatory to hire workers from within the state, they said.
The survey based its findings on the Herfindahl Index, originally devised to assess the concentration of industry.
Industries in the southern and western regions were found to have borne the brunt the most.
The background note of the survey said despite a favourable demographic profile, labour and skill shortage continued to blight Indian industry.
"This problem has been compounded by MGNREGA," it said.