The Commerce Ministry on Wednesday indicated that it may provide incentives to exporters in order to achieve the $320 billion exports target for the current financial year.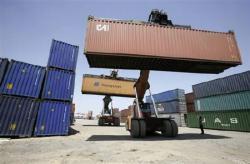 "Since the European Union and the US markets are in doldrums, we are making our best efforts to achieve as much as we can.

"We need special efforts that could be in nature of incentives, additional markets and making more efforts on market promotions," Commerce and Industry Additional Secretary Rajeev Kher told reporters on the sidelines of a pharma event.

On what kind of incentives the government will provide, he said it could be tax incentive or market promotion scheme. "The end game is to make exports more profitable," he said.

A recent Ficci survey said it is feared that the export target of $320 billion for FY13 is unlikely to be met due to the global demand slowdown.

The rising cost of raw materials and weak demand from overseas are primary factors that are bothering members of the export community, it had said.

"Until now Europe and the US have been the primary export markets for us. The
new strategy should be targeting other countries like Africa and the Middle East to take the next leap forward," he said.
Trade deficit with China has also risen to $40 billion and we need to export more to that country, he added.
"Our exports target for the current year is $320 billion...with only five months left, we are making best efforts to achieve the target," he said.
Sounding optimistic about the pharma sector, Kher said the sector will be able to achieve the export target of $25 billion by 2014.
"Increasing imports and widening trade deficit will definitely impact the country's CAD which will put pressure on rupee," FIEO director general Ajay Sahai said.
The domestic currency has already fallen about 3 per cent against the US dollar over the past one month. It has touched 55.34 in early trade on Wednesday.
Worried over the decline in exports, the government is considering to provide incentives to exporters to cushion them from the slowdown in western markets.
The Commerce Ministry, according to the official, has proposed interest subsidy for different sectors like engineering which are reeling under the impact of global economic slowdown.