Days after the C Rangarajan committee favoured lifting of any restriction on export or import of the sugar, the government today said that mills would be allowed to ship sugar abroad in 2012-2013 crop marketing year without any curbs.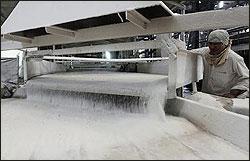 Food Minister K V Thomas also assured that all decisions on the remaining recommendations of the panel headed by Chairman of Prime Minister's Economic Advisory Council (PMEAC), C Rangarajan would be taken in a time bound manner.
"We have decided to extend the time for sugar export under open general licence (OGL) for another year," Thomas told reporters here after meeting with Agriculture Minister Sharad Pawar where he discussed many issues on sugar sector including the Rangarajan report.
He said both the food and agriculture ministries are of the view that the government should not adopt a "switch-on and switch-off" trade policy on farm items. Sugar exports were placed under OGL in 2011-2012 as production surpassed domestic demand. In earlier years, the government had banned exports before allowing limited export in tranches.
The Rangarajan panel among other things has recommended phased decontrol of the sugar sector, removal of obligation on part of mills to supply 10% of sugar at cheaper rate to the government to meet the ration shops demand, freedom to mills to decide on the quantum of sugar to be sold in the open market. It has also favoured a revenue-sharing arrangement between farmers and sugar millers.
"It (Rangarajan panel report) will not meet the fate of earlier reports and a time bound decision will be taken after.  Receiving views from the PMO," Thomas said. The Rangarajan panel is third committee by the government to study reforms in the sugar sector. Suggestions of earlier panels -- Tuteja Committee and Thorat Committee -- have not been implemented yet.
Way back in 1971-72 and 1978-79, the government had made attempts to decontrol the sector. In mid-2010, efforts were also initiated by former Food Minister Sharad Pawar in this regard.
In its other recommendations, the Rangarajan panel has also recommended doing away with the cane area reservation and minimum distance criteria besides suggesting removal of controls on by-products like molasses among others.
Government estimates, India's sugar production in 2012-2013 to be around 23 to 23.5 million tonnes, against the local demand of about 22 million tonnes. India exported around 3-3.5 million tonnes of sugar in 2011-2012 crop marketing year that ended on September 30, 2012.
Photograph: Amit Dave/Reuters