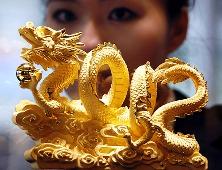 Falling for the third straight session, gold prices on Tuesday slipped below the Rs 27,000 level as it crashed by a whopping Rs 1,160 to Rs 26,440 per 10 grams in the national capital, taking cues from global markets where the metal dropped to an over two-year low.

In line with overall trends, silver also plunged by Rs 1,875 to Rs 46,125 per kg.

Marketmen said sustained weakness in overseas markets, where gold plunged over 9 per cent on Monday to its lowest level since February 2011, on worries over Chinese growth and possible sell-off by struggling Cyprus's central bank, continued to influence the trading sentiment in New Delhi.

In New York, gold plunged 9.35 per cent to $1,360.60 an ounce.

The metal has dropped by $200 an ounce, or nearly 13 per cent, in the last two trading days.

On the domestic front, gold of 99.9 and 99.5 per cent purity fell by another Rs 1,160 each to Rs 26,440 and Rs 26,240 per 10 grams, respectively.

The metal had lost Rs 2,000 in last two sessions.

Sovereigns followed suit and lost Rs 900 to Rs 23,800 per piece of eight grams.

Similarly, silver ready remained under pressure and traded Rs 1,875 lower at Rs 46,125 per kg and weekly-based delivery by Rs 1,750 to Rs 44,150 per kg.

The white metal had plunged Rs 4,600 in the previous two sessions.

However, silver coins held steady at Rs 74,000 for buying and Rs 75,000 for selling of 100 pieces.
Image: A sales representative poses behind a nine-tael 24K gold in the shape of a dragon forming the numerals 2012 | Photograph: Bobby Yip/Reuters