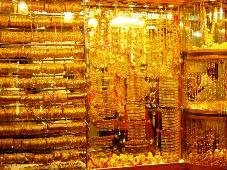 Gold imports will go up in 2013-14 due to a fall in prices, but in value terms, imports will fall, economists and trade analysts said on Tuesday.

In 2012-13, imports are estimated at 850-870 tonnes though the Prime Minister's Economic Advisory Council has not given any estimates in quantity terms.

"Gold imports will be around 900 tonnes in 2013-14 at the current price of gold.

"In value terms though, due to a fall in gold prices, we expect that there would be some moderation in the level of import of gold such that total imports during the year would come down to $45 billion, down nearly 20 per cent from 2012-13's level of $56 billion.

"In 2011-12, India's imports of gold were highest at $62 billion," the PMEAC, headed by C Rangarajan, said. The Bombay Bullion Association is more optimistic on the demand front.

"As gold prices are now significantly low and at this level, demand has improved significantly, we project imports of gold in 2013-14 at 950-1,000 tonnes," Mohit Kamboj, president, Bombay Bullion Association, said.

Demand
for gold as envisaged by the PMEAC might eventually fall.
"Since 2009 in India, the correlation between gold prices and imports has been positive, and hence, imports were increasing with a rise in gold prices and vice versa.
"The recent fall in gold price has led to a sharp spike in demand, reversing the correlation," Sonal Varma, India economist at Nomura, said. "If gold price continues to fall," she said, "we can expect a recent surge in demand to falter as investment-related demand will decline."
The PMEAC has, however, drawn a rosy picture for exports of gems & jewellery.
In 2012-13, exports fell by 11 per cent.
The council sees better days returning for this third largest export-earning sector.
The council said, "It is expected that in 2013-14, exports of gems & jewellery would increase by 12 per cent, and exports would cross $45 billion, the same level as in 2011-12.
" Industry echoes similar feelings. Vipul Shah, chairman, Gem and Jewelery Export Promotion Council, said, "We see exports growing between 12 per cent and 15 per cent in 2013-14, as except Europe, all markets are showing optimism."