International investors are encouraged by the Indian government's recent economic policy announcements, including that on opening the retail sector to foreign direct investment (FDI). However, they would track how these measures were implemented, said speakers at the annual India Investment Forum in New York.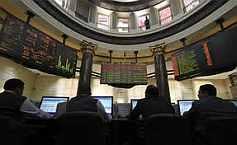 Noting the Indian equities market had given 18-19 per cent returns to international investors this year, George Hoguet, managing director and global investment strategist for State Street Global Advisors, the world's second-largest institutional money manager, told Business Standard his firm was "modestly overweight" on India, despite concern on inflation and political dynamics and valuations.

"What we're concerned about is whether the economy would grow at six per cent yearly over the next few years, as opposed to eight or nine per cent," he said.

Gross domestic product (GDP) growth between eight and 10 per cent was "unfeasible" over the next few years, said Arvind Sanger, founder and managing partner of Geosphere Capital Mana-gement. Sanger, who participated in a panel discussion at the forum, said the looming power crisis and land utilisation issues were among the infrastructure challenges that would result in lower growth in the medium term.

"So far, we've seen politically difficult, but administratively easy measures. But the opposite is more critical for India's growth," said Sanger.

Among those most bullish on India was Kathryn Koch, senior portfolio strategist with Goldman Sachs. "India has the best potential among any of the BRIC (Brazil, Russia, India and China) countries, in terms of macro potential. What's holding it back is some of the growth conditions," she told Business Standard.

For Koch, India's appeal lies in good sector diversification, the highest
consumer exposure and profitability among BRIC nations and excellent returns on investment.
Noting India offered the best returns on equity in any major emerging market, Koch said, "If I couple good demographics and good scope for improvement with the recently-demonstrated ability to make some of that improvement, there are long-term ingredients for a fantastic equity market performance."
However, the ongoing political turmoil around economic reforms is taking its toll. "We are increasingly cautious on India," said Hoguet, adding local brokers in India had told State Street the reform momentum would slow.
"I think the commitment, in terms of (Prime Minister Manmohan) Singh, is quite strong. But whether he would be able to navigate, keep a coalition together and avoid elections is not clear at all," he said.
According to Koch, the recent announcements were a boost to investor psychology. "The market underperforming last year was an expression of foreign investors saying, 'There are some things broken here and you guys don't seem to have the commitment to fix it'," she said.
She was also confident Indian voters were increasingly rewarding good economic performance, and this would strengthen the government's commitment to reforms. However, she added in recent months, policy paralysis was more pronounced in India than in other BRIC nations, and her firm would be on the look-out for signs of acceptance and implementation of measures like FDI in retail at the state level.
Investors were optimistic on the Indian government's commitment to reducing the fiscal deficit, including steps to cut diesel subsidies. Roopa Kudva, managing director and chief executive of Crisil, sounded a note of caution, saying expenditure on social welfare schemes and subsidies was rising much faster than nominal GDP. However, she added, the recent policy announcements were a step in the right direction.