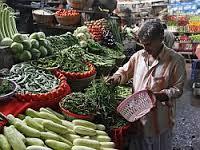 Global food prices fell by 3.2 per cent in May, the second consecutive month of fall, on account of a sharp decline in costs of dairy, cereals and vegetable oils, according to the United Nations' Food and Agriculture Organisation.

The FAO's price index, which measures monthly price changes for a basket of grains, oilseeds, dairy, meat and sugar, averaged 207.8 points last month as compared with 214.6 points in May 2013, falling nearly 3.2 per cent.

"After rising to a ten-month high of 213 points in March, the Index fell in April and again in May, pressured by lower dairy, cereal and vegetable oil prices. However, sugar made strong gains in May, while meat remained firm," the FAO said in a statement.

The FAO's cereal price index fell by 13 per cent from over the year-ago period, mainly triggered by maize prices, which declined in response to favourable growing conditions and good supply prospects in 2014-15.

Rice prices were little changed. However wheat prices, which had firmed at the start of the month on slow spring planting in the US and tensions in Ukraine, fell during the second half of the month, with weather conditions improving in the US and shipments from Ukraine continuing normally, it said.

However, the FAO's Sugar Price Index remained firm as prices rose amid early forecasts for the 2014-15
season pointing out to a possible production deficit, with El Nino likely to exacerbate the fall in output.
"Overall, the sugar price increase was more pronounced during the first half of the month, while in the second half, the price rally was somewhat subdued by indications of large sugar inventories in India and Thailand," the FAO said.
The FAO Vegetable Oil Price index was down as palm oil prices fell for the second consecutive month on rising output in Southeast Asia, continued strength in Malaysia's currency and subdued global import demand.
The United Nation's food agency said the softening of soy oil was caused by strong soybean crushing in South America and initial forecasts of an ample global soybean crop in 2014-15.
The drop in rapeseed oil prices mainly stemmed from an improvement in global export availabilities and the prospect of a record harvest in the EU.
The FAO's Dairy Price Index represented a second sharp monthly fall as the market for dairy commodities is readjusting, following a period of exceptionally high prices in 2013 and early 2014, caused by limited export supplies.
In recent months, the production outlook has improved and, in general, buyers are purchasing only for immediate needs, expecting that prices may fall further.
The FAO Meat Price Index remained nearly unchanged from April, as prices of all the products that make up the index moved little.