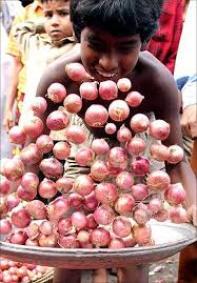 India may be faced with an onion crisis again. This kharif season, the El Niño weather phenomenon, which could disrupt rains, and a shortage of seeds are seen as concerns.

Ahead of Diwali last year, onion prices in retail markets across several cities stood at about Rs 100 a kg; in wholesale markets, prices were about Rs 60 a kg.

In December 2010, too, prices in the wholesale market in Lasangaon near Nashik stood at Rs 60 a kg.

This time, however, what may allay concerns to an extent is the fact that states that traditionally don't grow onions, at least not in the kharif season, are experimenting with the crop.

These include Madhya Pradesh, West Bengal and Odisha.

For the onion crop, these states have secured commitments from Nashik -based National Horticulture Research and Development Foundation for the supply of seeds. Also, Madhya Pradesh has decided to give subsidies for storage facilities.

Across growing regions, farmers are seeking to sow more this season, as they had recorded good earnings last season, when wholesale markets recorded prices of Rs 40-60 a kg for three-four months.

R P Gupta, director of NHRDF, said, "This rabi season, seeds were damaged due to hailstorms and unseasonal rains.

"This will be a dampener for farmers, as they want to sow more and seeds might not be available.

"The El Nino threat is already looming over this kharif season. Together, these mean a potential crisis on the onion front is in the offing."

Gupta added last year, the onion crop was sown across 1.21 million hectares.

This year, the sowing area is unlikely to be higher than last year as seed stocks are low.

What adds to the challenges is the fact
that though the crop is consumed across the country, it is grown in only a few pockets.
Experts say if the crop is grown in the northern and north-eastern states, also India can tap export destinations such as Bangladesh and Singapore. Currently, most exports are from Mumbai.
Gupta says, "The government should ask agencies such as National Agricultural Cooperative Marketing Federation to intervene in the onion market and provide it financial support."
Earlier, the Federation of Indian Chambers of Commerce and Industry's agriculture committee had reviewed the onion market and concluded that one exchanges could have futures trading in onion, but exchanges didn't favour the idea.
Several market players have said for a futures market, storage and transport facilities have to be made efficient.
To address the scarcity dehydrated onions were also proposed. However, this has been confined only to the export market because except restaurants and food processors, not many have embraced the idea.
After carrying out a study last year, National Commodity and Derivatives Exchange had said, "One of the key reasons for frequent price shocks in onion is the structural inefficiencies in the marketplace; the market lacks transparency and is closely controlled by a few participants."
Therefore, in the first phase, the exchange proposed reforms be introduced in the primary physical markets in Maharashtra and Karnataka.
The markets, NCDEX said, should adopt the NCDEX Spot Exchange's unified market platform.
This would ensure recording of all arrivals and trades, and a robust and competitive price discovery mechanism in primary markets.
The study added, "Dissemination of price and volume data to stakeholders could be used for pricing forward contracts and (when launched) futures contracts."