In a major blow to attempts of the Maharashtra government to improve infrastructure in the metropolis, none of the five shortlisted firms put in tender for the ambitious Mumbai TransHarbour Link (MTHL) project, the bids for which opened on Monday.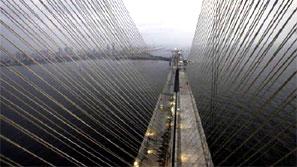 "We did not receive any bid from the private sector for the MTHL project," MMRDA additional metropolitan commissioner Ashwini Bhide told PTI.
On July 31, one of the five shortlisted companies, IRB Infrastructure, had said it would not bid for MTHL. IRB Infra had tied up with Hyundai Engineering for the sea bridge.
The other four shortlisted consortia were Cintra-Soma-Srei, Gammon Infrastructure Projects-OHL Concessions-GSEngineering, GMR Infrastructure-L&T-Samsung C&T Corpn and Tata Realty and Infrastructure-Autostrade Indian Infrastructure Development-Vinci Concessions Development.
The Mumbai Metropolitan Region Development Authority (MMRDA) is the implementing agency for the Rs 9,630-crore (Rs 96.3 billion) project, which seeks to connect Sewri in the northeastern fringe of the island city with Nhava on the mainland. It is to be developed on built-operate-transfer basis.
"We had provided all necessary assistance to mitigate all the risks for the private sector. Right from clearances to assuring financial assistance, we had addressed most of their problems. Yet we did not get any response," Bhide said.
After repeated failures, MMRDA had extended the deadline for shortlisted consortia to submit bids to July 5 which was again put off to August 5 from original date of May 24, 2013 after the bidders sought additional time.
Bhide said the Government had also approached the Centre for making changes in the model document of the project on certain terms and conditions to address some of the issues faced by the private sector.
To address some of its financial risks, Union Finance Ministry, in January this year, sanctioned viability gap funding to the tune of Rs 1,920 crore (Rs 19.2 billion) for the project.