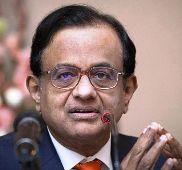 Finance Minister P Chidambaram on Wednesday appealed to India Inc to persuade the Opposition to help pass crucial reform Bills in Parliament.

The Opposition has been protesting against allowing foreign direct investment in the retail sector, as well as the rise in fuel prices.

In his first meeting with industry chambers after taking charge as finance minister, Chidambaram assured them the National Investment Board would be set up within two weeks to expedite infrastructure projects, chambers said.

The Bills would need Opposition's support in the Rajya Sabha.

Another reform Bill, the Constitution amendment Bill to roll out the Goods and Services Tax, would also require the Opposition's support.

Also, at least half the states would have to ratify the Bill.

Currently, the Bill is being vetted by Parliament's standing committee on finance.

Responding to the finance minister's request, Ficci president R V Kanoria said the chamber would continue to raise the matter with states, as well the Opposition.

At the meeting, Federation of Indian Chambers of Commerce and Industry, Confederation of Indian Industry and Assocham pitched for lower interest rates to boost consumer spending in the festive season.

Kanoria said for energy security, competition in the commercial coal mining sector was vital.

For this, denationalisation of Coal India was essential, he said. Assocham, too, sought 'scrapping of the mine nationalisation Act.'

CII stated Rs 4 lakh crore was stuck in taxation disputes. It urged the finance minister to resolve these issues.

The industry delegations also urged the finance minister to address issues in land acquisition and unlock assets with sick PSUs, as well as cash-rich PSUs.
Image: P Chidambaram