Finance Ministry on Thursday said CSO's economic growth projection of 5 per cent for the current fiscal is below expectations and the government will continue efforts to revive the economy.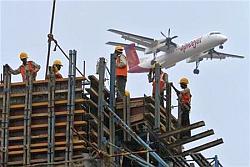 "The CSO's growth estimate, no doubt, is below what we had expected it to be. We are keeping a watch on the situation. We have taken and we will continue to take appropriate measure to revive growth," the Ministry said in a statement.

As per the advance estimates of the Central Statistical Organisation (CSO), the GDP growth rate for the current fiscal is estimated to be at 5 per cent, the lowest in a decade. The economy grew by 6.2 per cent in 2011-12 fiscal.

The Ministry, however, expects the final numbers to be better as indicators are showing an uptrend since November.

"As per practice, this projection is based on extrapolation of numbers till November 2012.
Since then leading indicators have turned up, suggesting some hope that we will end the year on a better note," the Ministry added.
The CSO's estimate is sharply lower than that of RBI and government, which had projected the economic growth at 5.5 per cent and 5.7 per cent for this fiscal year.
The lower growth estimate is mainly on account of poor performance of manufacturing, agriculture and services sector.
The CSO pegged a lower growth in agriculture at 1.8 per cent in 2012-13, compared to 3.6 per cent 2011-12. Besides, manufacturing growth is also expected to drop to 1.9 per cent this fiscal, from 2.7 per cent last year.
"The reduction in growth in agriculture and allied sector has been on account of rainfall being lower than normal, particular in the month of June-July. In the industry sector, growth has been lower mainly on account of a reduction in growth of manufacturing sector," the Ministry said.