Financial inclusion will be one of the most important criteria for granting banking licences to new players, the RBI Governor D Subbarao said on Tuesday.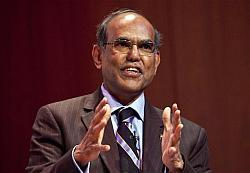 "An important criterion for evaluating applications will be the business plan that potential applicants submit for financial inclusion. It (financial inclusion) is a very important criterion for evaluating their applications," he said addressing the convocation ceremony of the National Institute of Bank Management (NIBM) in Pune.

Last month, RBI had released final guidelines for new banking licences specifying that the proposed banks would need to set up at least 25 per cent of their branches in unbanked areas for achieving financial inclusion.

Referring to government's target of spending around one trillion dollar on infrastructure in the 12th plan, Subbarao said it would be a big task as it would call for raising the spending on infrastructure to 7-8 per cent of GDP from the present level of 2-3
per cent.
"Investment of $1 trillion in infrastructure, nearly half of that coming from the government, means that the govt will have to raise its spending on infra from about 2-3 per cent of GDP today, even less, to 7-8 per cent of GDP. That's a big, big task," Subbarao said.
Meanwhile, referring to the trend where the people were seen preferring gold over bank deposits, Subbarao said high inflation was prompting people to buy gold rather than parking their money in the banking system.