The number of PSU stocks in the country's three stock indices - Sensex, Nifty and SX 40 - are few and far between, indicating a growing clout of private peers.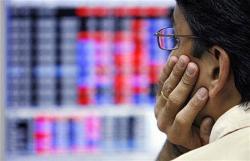 At the 30-share BSE benchmark Sensex, the number of PSU stocks is the lowest at just six. Similar is the case with the newly launched MCX SX's SX 40 index, where there are only seven state-run entities.

The largest representation of government-owned companies is in 50-share Nifty index of which 10 are PSUs.

"Private companies always far exceed state run companies when it comes to growth and profitability and this is being reflected in the composition of major benchmark indices of the country," Ashika Stock Brokers research head Paras Bothra said.

SX-40 has seven PSU firms - BHEL, BPCL, Coal India, GAIL,
NTPC, ONGC and PGCIL. In BSE Sensex, the share of state-run firms is just six - SBI, Coal India, NTPC, BHEL, GAIL and ONGC.
The widest representation is in Nifty which has 10 PSU firms - ONGC, BHEL, PGCIL, Coal India, BPCL, Gail, Bank of Baroda, State Bank of India, Punjab National Bank and NTPC.
The situation, however, was not like this earlier and the dominance of state-run firms have decreased over the years post the liberalisation process of the government which began in early 1990s, said analysts.
"Now things have improved drastically. Government is taking several reformatory actions to improve business sentiment. Moreover, post-liberalisation new sectors emerged, exports opened up and doing business in India became a lot easier than earlier," Bothra added.