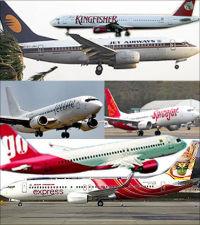 Former Civil Aviation Minister Shahnawaz Hussain on Monday blamed the government for the "sorry state of affairs" in the civil aviation sector, saying its policies were allowing private carriers to make profits out of a crisis like the Air India pilots' strike.
"Wrong policies of the government have led to a situation where private airlines are making profits out of a crisis situation. This is a matter of enquiry," he said in New Delhi.
Hussain, who spoke to DGCA chief E K Bharat Bhushan on the "high fares" being charged by private airlines when Air India services have virtually come to a halt, demanded "stringent action" against those airlines taking such measures like charging high spot fares.
"It is understandable that ticket prices go up when jet fuel prices increase. But they (private carriers) are charging high fares when there is high demand or there is a crisis like this (pilots strike).
It is like a mafia. They have formed a cartel," the BJP MP said without naming any airline.
Maintaining that he would raise the issue in Parliament, Hussain demanded a comprehensive probe into the happenings in civil aviation sector, including the huge rise in the losses of Air India after the merger of two erstwhile state-run carriers.
Another BJP leader and former Civil Aviation Minister Rajiv Pratap Rudy had on Sunday demanded that Prime Minister Manmohan Singh should fix the responsibility for the alleged mismanagement in the running of the national carrier.
Rudy had wondered whether the present state of affairs in the airlines was a ploy to shut it down and whether the government was trying to cover up a "bigger scam" in Air India by targeting pilots.