Abu Dhabi's Etihad Airways, close to a tie-up with Jet Airways, expects to complete due diligence on the deal in the next week, the Gulf carrier's chief executive said on Monday.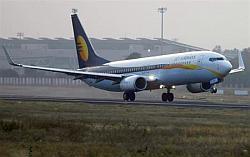 The Jet deal would be the first foreign investment into India's aviation market after the government relaxed ownership rules in September last year and allowed foreign carriers to buy up to 49 percent in domestic carriers.

"We are doing our due diligence in the next week. We will present it to our board and take it from there," James Hogan, speaking at a press conference after the airline reported its annual results.

An announcement was expected this week, an official at the Indian airline, who declined to be identified, said in January.

Hogan said he had met with senior Indian aviation officials and ministers last week to understand the new rules of India's foreign direct investment scheme.

"We also wanted to understand the issues that have impacted Indian civil aviation, how they think this will change in the coming years," said Hogan.

The terms of the possible deal have not been disclosed, but a government source said earlier this month Etihad was in talks to pick up a 24-percent stake in Jet for up to $330
million.
Unlisted Etihad has been on an acquisition drive in recent months, taking minority equity stakes in Virgin Australia and Aer Lingus and raising its shareholding in Air Berlin and Air Seychelles.
Dreamliner


Hogan said Etihad has no plans to cancel its order for Boeing's troubled 787 Dreamliner.
All 50 Boeing 787s remain grounded as authorities in the United States, Japan and France investigate the Boston battery fire and a separate battery failure that forced a second 787 to make an emergency landing in Japan a week later.
"(The) 787 is a great aircraft, we have no doubt it will be resolved and the aircraft will be up and fine," Hogan said.
When asked if Etihad would cancel any Boeing orders, he said: "Not at all."
Etihad, with a total of 41 787-9 Dreamliners on order and options for an additional 25 aircraft, would be one of the largest operator of the aircraft type in the world.
Hogan also said that the airline has had no discussions with Italian carrier Alitalia beyond code sharing.