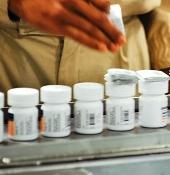 Dr Reddy's Laboratories reported a 7.4 per cent rise in quarterly net profit, which lagged street estimates as an increase in generic sales in its key United States market was offset by a fall in European revenue.
The Hyderabad-based drugmaker said consolidated net profit rose to Rs 361 crore (Rs 3.61 billion) for the fiscal first quarter ended June, from Rs 336 crore (Rs 3.36 billion) a year earlier.
Revenue rose 12 per cent to Rs 2840 crore (Rs 28.4 billion).
Analysts, on an average, had forecast net profit at Rs 429 crore (Rs 4.29 billion) on net sales of Rs 3116 crore (Rs 31.16 billion).
Valued at nearly $6.6 billion, shares in Dr Reddy's Laboratories extended losses to more than 3 per cent after the Mumbai markets closed down about 1 per cent.