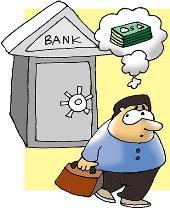 Banks are unlikely to increase lending rates in the near future despite recent liquidity tightening measures announced by the Reserve Bank of India to contain rupee fall, as demand for loans have remained weak.

As liquid tightening measures were likely to be temporary, any change in lending rates would depend on the length of these measures, according to bankers.

"Loan demand is too weak.

"That is why there may not be enough demand. "We are waiting because these steps are supposed to be temporary.

"So, unless they linger on for very long, none of the banks are increasing their loan pricing," Chairman and Managing Director of State Bank of India, Pratip Chaudhuri told reporters on the customary post-policy conference in Mumbai.

Asked how long can the banks hold on to the current lending rates, Chaudhuri said that two to three weeks would be the normal waiting period for SBI after which it would take a call.

Recently, RBI has taken several measures like capping the borrowing limit under Liquid Adjustment Facility corridor, sale of government bonds through open market operation, minimum daily cash reserve ratio balance, among others, to squeeze rupee liquidity to stem fall in
the domestic currency.
However, these measures had pushed short-term money market rates along with government bond yields to higher levels, creating fear of increase in cost of funds for financial institutions.
But, RBI had indicated that these measures were short-term in nature and would be rolled back as rupee stabilised.
On this issue, some of the bankers also said that changes in lending rates will depend on the impact of liquidity tightening measures on cost of funds for banks.
"Ultimately, you have to look at the impact on total cost of funds of the bank. . . .
So, I guess we will have to look for the market dynamics on this and see how rates come off.
As of now, immediately, we don't feel the need to raise rates but we will have to watch on what happens over the next 6-8 weeks to take a call," managing director and chief executive officer of Axis Bank, Shikha Sharma said.
Bankers also pointed out that unlike other financial institutions like mutual funds, banks have a stable way of funding and can endure these measures for long as compared to others.
Advocating quicker withdrawal of liquidity tightening measures Pratip Chaudhuri also said that these measures would increase the cost of borrowing of the central government and keep state governments away from raising further funds.