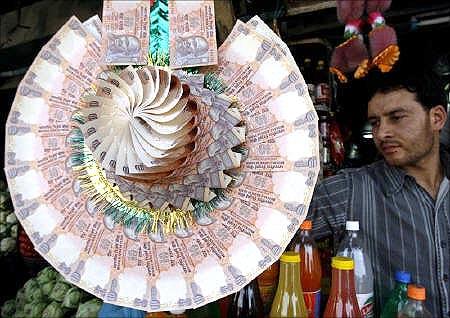 Private companies have been increasing their dividend payouts at a much higher pace than their public-sector counterparts, though some state-run companies are making huge payouts in absolute terms.
Private companies have increased their dividend payouts at a compound annual growth rate (CAGR) of 22.5 per cent, compared with public-sector undertakings' (PSUs') 16.7 per cent, over the past four years, an analysis of BSE-200 companies shows.
While PSUs distributed Rs 46,198 crore (Rs 461.98 billion) in dividends in 2012-13, bulk of this was accounted for by just a handful of companies.
The top five among 36 government-owned companies that paid dividends accounted for nearly 60 per cent (Rs 27,325 crore) of the total payout.
Recently, Coal India announced an interim dividend of Rs 18,371 crore (Rs 183.71 billion), which is more than 207 per cent its last payout of Rs 8,843 crore (Rs 88.43 billion) and is also the highest single dividend payout by an Indian company.

PSUs' dividend payouts increased to around 34 per cent of net profits in 2012-13 from 28 per cent in 2008-09, largely due to bulk payouts by larger PSUs.
Analysts say dividend payouts should be looked at for consistency rather than one-off announcements. Sonam Udasi, head of research, IDBI Capital, says: "People should look at consistency in dividend policy. The payouts are not happening to reward minority shareholders."
Overall, however, dividend-payout policies of Indian companies have got better over the past four years. The country's companies have raised their payouts at a CAGR of 19.7 per cent in these years, more than doubling dividends to Rs 1.02 lakh crore.
The situation was much different in 2008-09, when dividends were significantly lower as a percentage of net profits.
Payouts have increased from 23 per cent of net profits in 2008-09 to around 29.8 per cent of profits in 2008-13, a sign that companies are not retaining capital but preferring to distribute it among shareholders.
Analysts say that while dividends are improving, they should be looked at specifically with the historical practice of companies.
Says Udasi: "One should look at historical dividend payouts as a policy and how companies are improving them. It shows how confident the company is of its future. Generally domestic companies have been retaining higher earnings as they say that they want more capital for growth."
Analysts also point out that although the overall improvement in dividend trend is encouraging, the increase in payouts should be more broad-based across sectors as retaining profits tends to decrease returns on net worth.
Payouts go up

FY09

FY10

FY11

FY12

FY13

Private Sector

25154.91

36011.89

43083.63

47440.64

56651.76

PSUs

24836.33

30881.59

32811.82

38300.12

46198.70

Source Capitaline; Compiled by BS Research

Total dividend in Rs cr