The finance ministry on Wednesday said it is working out modalities for stake sale in PSUs and exuded confidence that government will meet the Rs 30,000 crore (Rs 300 billion) divestment target for the current fiscal.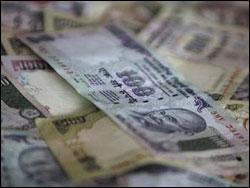 "Meeting of divestment target should not be a problem because we have enough (companies) in the pipeline and our team is working on other cases also, so that necessary CCEA clearances are available in time," Department of Disinvestment (DoD) secretary Mohammad Haleem Khan told reporters on the sidelines of an event organised by SCOPE in New Delhi.
The government had proposed to raise Rs 30,000 crore from divestment in the current fiscal. However, it has failed to come out with any public offering in first four months of 2012-13.
Khan said once the approval of the Cabinet Committee on Economic Affairs (CCEA) is made available, the PSUs could hit the capital market at short notice.
He also stressed that divestment is part of economic reforms and should not be seen as a compulsion on the part of government to raise resources.
The DoD has been contemplating stake sale in as many as 15 state-owned companies including bluechips like BHEL, SAIL, HAL and Oil India in the current fiscal.
The government is also pursuing offer for sale (OFS) and Institutional Placement Programme (IPP) model to meet the target.
IPP and OFS are two new share sale tools which were introduced by the regulator Sebi in January this year, especially to help corporates increase their public shareholding.
These two models would also help companies achieve the minimum 25 per cent public holding guideline by June, 2013.
All listed companies are required to have at least 25 per cent public holding by June, 2013, while PSUs have been given time till August, 2013.
There are about 13 PSUs which have to meet the minimum public holding guidelines.
Khan further said that the several listed PSUs have initiated the exercise to increase public shareholding, though some sick state-owned companies may find it difficult to meet the target date.
"Most of companies that are supposed to meet free float norms, are already taking steps and they will be in the market in due course of time," he said.
Last fiscal, due to volatile market conditions, the government had to postpone the sell off process. It raised only Rs 14,000 crore (Rs 140 billion) in 2011-12 against a target of Rs 40,000 crore (Rs 400 billion).