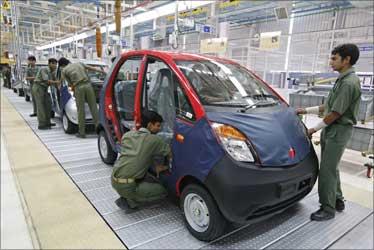 Expressing disappointment over the contraction in industrial growth in October, India Inc has appealed to the Reserve Bank to cut interest rates to revive the manufacturing sector and ameliorate investments.
"The slowdown in the industrial sector will improve as growth returns to major offshore markets and concerted policy actions by the country as most of it has been exacerbated by domestic factors," Ficci President Naina Lal Kidwai said.
Unless interest rates are brought down, we are not going to see much improvement in the index in the near term as this is important to stimulate demand and revive investments," Kidwai said.
Industrial production entered the negative territory after three months, contracting by 1.8 per cent in October this year mainly due to poor performance of the manufacturing sector.
Terming the negative growth in industrial performance as "disappointing", CII Director General Chandrajit Banerjee said: "The decline in industrial production casts a shadow on hopes that the economy has bottomed out and there would be a turnaround in industrial activity in the second half of this fiscal".
"It is important that the RBI takes cognisance of the steep slide of industrial production and reverts to the accommodative monetary policy to revive demand," he added.
Factory output, as measured in terms of the Index of Industrial Production (IIP), grew by 8.4 per cent in October last year. Describing the country's macro-economic picture as "quite grim", industry body Assocham called on the government to make effective and decisive policy interventions.
"The manufacturing and mining remain in a shambles while further disaggregation of IIP data portrays a very sorry state of affairs. Industry after industry is showing sizeable degrowth, signalling possibility of job losses," Assocham Secretary General D S Rawat said.
The manufacturing sector, which constitutes over 75 per cent of the index, declined by 2 per cent in October as against a growth of 9.9 per cent a year ago.
During April-October, the sector's output contracted 0.3 per cent compared to a growth of 1.1 per cent in same period last year.
"Negative IIP growth rate and volatility in macro economic situation month after month is raising concerns. The pending and slower reforms outlook has impacted the industry growth prospectus and the situation is turning from bad to worse," President of PHD Chamber of Commerce, Suman Jyoti Khaitan, said.
The mining sector, with a weight of about 14 per cent in IIP, also saw a contraction of 3.5 per cent in October as against a dip of 0.2 per cent in the same month last fiscal.