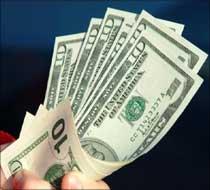 Overseas investors poured in Rs 7,852 crore (about $1.5 billion) in the Indian debt market in October, the highest in eight months, largely on account of relaxation in debt allocation norms for them.

Foreign institutional investors were gross buyers of bonds worth Rs 18,904 crore (Rs 189.04 billion) last month, while they sold debt securities amounting to Rs 11,052 crore (Rs 110.52 billion) -- translating into a net investment of Rs 7,852 crore (Rs 78.52 billion) for the period.

As per the latest data available with the market regulator Sebi, this was the highest net investment by FIIs in debt securities since February, when they had infused Rs 10,016 crore (Rs 100.16 billion).

Market analysts said relaxation of debt allocation norms for FIIs, as well as expectation of an eventual rate cut by Reserve Bank of India, have helped attract FIIs to the debt markets in Mumbai.

Capital market regulator Securities and Exchange Board of India had last month gave a breather to foreign investors by allowing them to carry forward 50
per cent of their debt holdings to the next calendar year.
Sebi also said FIIs would be allowed to use the unutilised in corporate debt infra long-term bonds without obtaining its prior approval till the overall FII investments reaches 90 per cent of the limit.
"The steps taken by Sebi are positive for FIIs which may help in reviving FII sentiment towards the debt market," Alex Mathews of Geojit BNP Paribas said.
Market experts further said Indian currency which is hovering around 54 level would also help FIIs to stay invested in the domestic market.
For investing in the bond market, FIIs have to acquire limits which are auctioned by Sebi every month.
Since the beginning of this year, the FIIs have pumped in Rs 32,581 crore ($6.2 billion) in the debt market.
FIIs also poured in Rs 11,364 crore ($2.2 billion) in equity market last month, taking their total equity investment so far in 2012 to Rs 94,381 crore ($18.1 billion).
There are a total of 1,754 FIIs registered with Sebi and close to 6,250 sub-accounts that overseas investors use to invest in India.