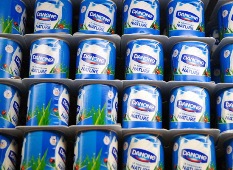 Danone Foods and Beverages says it believes in treading cautiously, though some would term that as an understatement.

For, two years after it launched its yoghurt range of products in India, the French dairy and beverage maker is present in just five cities, with Delhi and the National Capital Region being the latest -- that too only a few months ago.

That's not the only example of its conservatism. Danone is still operating through large stores rather than pushing its products across all retail formats.

But the cautious expansion seems to be part of a well thought-out strategy.

As late entrants in the dairy business, Danone faces tough competition from brands such as Nestle, Amul and Mother Dairy who have a stranglehold on the market.

Breaking into such a crowded market obviously was a difficult task.

Danone is thus trying its best to differentiate itself by charting a course that others have not thought of.

The key to that strategy is an innovative distribution system -- Danone distributes its lassi, flavoured and plain yoghurts only through its own refrigerated trucks directly to the retailer.

Jochen Ebert, general manager of Danone India, says, "Our tag line is that only good gets delivered.

"So, for products like yoghurt and lassi, which have a short shelf life of 15-20 days, we deliver the product through our own refrigerated trucks to ensure quality.

That is unlike our competitors who outsource distribution entirely."

For instance, in Mumbai, Danone owns over 25 trucks which distribute the product as many as four times a week to the retailers directly.

Not only that.

The company gives refrigerators to its retailers so that the product can be stocked without compromising on quality.

It's only for products with a larger shelf life of up to six months (like its tetra pack milk or its chocolate smoothies Choco Plus) that Danone outsources distribution.

The second part of the game plan is to provide consumers a 'natural and nutritional' product, which means production closer to the market and adequate control over the production process to ensure quality.

For instance, for supplying products to the Delhi and the NCR region, the company has set up a small facility in Sonepat. And it is buying milk directly from farmers.

Ebert says going forward, the company would use two models --
outsourcing production to others as it has done in Maharashtra where it partners with Dynamix, and setting up its own production facility.
"The key element is that we must have control over the process of making the product," says Ebert.
Ebert is also aware that even though Danone is the world's largest yoghurt brand, it still is not a top of the mind recall for Indian consumers who are too used to brands like Nestle, Amul or Mother Dairy.
That is why the company is getting into national television with actress Karishma Kapoor as the brand ambassador.
This is despite the fact that it still does not have a pan-India presence. Danone is also differentiating its product by saying that it only contains natural ingredients.
The company is hoping that the strategy will help it meet its ambition of taking the top spot in the yoghurt business like it has done in other countries across the globe.
But the fact is the company has a long way to go to be a national brand as it's available now only in Mumbai, Pune, Hyderabad and Bangalore apart from Delhi and the NCR.
But the low consumption of yoghurt in the country is something that gives Ebert hope for a huge upside.
"We will drive up consumption. That is because per capita consumption of yoghurt in India is only 2.5 kg a year which also includes homemade dahi, compared to 30 kgs in Europe.
"So there is a huge market waiting to be tapped," he adds.
Also while Danone might have positioned its product as a premium brand, it is ready to play the pricing game in new markets.
For instance, in Delhi, it sells flavoured yoghurt in a 100 gram pack for Rs 20, which is Rs 5 cheaper than its main rival Nestle.
But in other areas -- like toned dahi of 400 grams -- it charges a premium of Rs 5 over rivals.
But to drive consumption, will Danone just concentrate on the international portfolio or will it also leverage the desi Indian version of the yoghurt -- whether it is Srikhand in Gujarat and Maharashtra or the mishti doi of Bengal?
After all, both Amul and Mother Dairy have tapped these markets and got large volumes.
Ask Ebert and the answer is that Danone is looking at all the local products very carefully and has surely not closed its doors.
"We will try to understand the local yoghurt products and then take a callon whether we should take that route. It's a call Danone may have to take sooner than later.