The consumer goods segment, the most popular theme on Dalal Street in the past one year, faces an uphill task of retaining investor interest in the near future.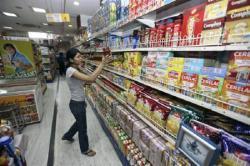 Through the next few months, shares of consumer goods companies such as Hindustan Unilever, Nestle, Colgate and Dabur might be weighed down by concerns on steep stock valuations and signs of business slowdown.

After disappointing results in the quarter ended September, investors who had stocked these shares are reconsidering their investments.

"Investors are now waking up to the fact that these expensive valuations are not sustainable, especially as recent results show earnings are slowing," said Sankaran Naren, chief investment officer, ICICI Prudential Mutual Fund. "We are underweight on the sector.

So far this year, the BSE's fast-moving consumer foods (FMCG) index has gained 42 per cent, against the Sensex's 18 per cent rise. The rally has driven up the valuations of these shares, measured by the price-to-earnings (PE) ratio, to 30-40 times the estimated earnings. The Sensex is trading at an estimated PE ratio of 15 times.

Analysts said these valuations would be sustained only if the growth in earnings of the companies was 20-30 per cent.

"Companies have not been able to measure up to expectations. If this continues (which is a possibility because of slowing consumerism, as economic growth declines), consumer stocks would be underperformers," said Raamdeo Agrawal, joint managing director, Motilal Oswal Financial Services.

Brokerage firm CLSA said rural India, which accounted for 40 per cent of the sales of consumer goods firms, was already showing signs of moderating.

"If the central government further moderates its spending to arrest the rising fiscal stress, buoyancy in rural consumption could be at risk," CLSA analysts Anirudha Dutta and Bhavesh Pravin Shah said in a client note.

According to Kotak Securities, Nestle's revenue growth fell to eight per cent in the quarter ended September, compared with 20 per cent in the year-ago period. CLSA said this was Nestle's slowest quarterly volume growth in 30 quarters. Colgate's volume growth in the same period was the slowest in 18 quarters.
CAUTIOUS MOVE
Share price on BSE (Rs)

 

 
2-Jan-12
 16-Nov-12
% Change
Forward price to
earnings ratio
(times)
Godrej Consumer Products

 

374.15
677.80
81.16
30.99
Marico

 

144.75
217.85
50.50
33.12
ITC

 

198.40
274.55
38.38
28.28
Hindustan Unilever

 

402.40
521.35
29.56
34.99
Nestle India

 

4070.35
4709.30
15.70
41.38
BSE-FMCG
3982.64
5669.59
42.36
32.60
BSE-Sensex
15517.92
18309.37
17.99
14.90
Source BSE & Bloomberg

   

                                                                                   

Compiled by BS Research Bureau
"The argument on 50 years of growth notwithstanding, investors may want to revisit the investment thesis in the light of the very high multiples and uncomfortable facts of declining volume growth, the large contribution of other income to overall earnings in certain cases and the low tax rates, against the marginal corporate tax of 32.45 per cent," a Kotak analyst team, led by Sanjeev Prasad, said in a recent client note.

Yet, investors' reactions to the lower-than-expected earnings have been mixed, with shares either rising or declining only marginally since the earnings season. Fund managers said this might have resulted from the fact that the earnings growth and the financial health of these companies were still better than most sectors.

"Many consumer stocks are trading at high valuations and the sector is also slowing. But investors are not selling these aggressively, as quality remains the theme in the market," said Anand Shah, chief investment officer, BNP Paribas Mutual Fund.

"Also, among the various market segments, on a relative basis, they are still increasing their earnings faster than others. In the absence of supply and ample liquidity from foreign funds, these stocks are drifting higher," he added.